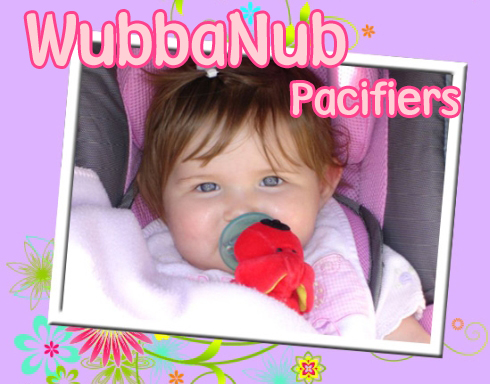 The WubbaNubâ"¢ is designed to keep the pacifier conveniently placed in or neat your baby's mouth. The cute, soft plush brings soothing comfort and security while giving them something to play with too. The fun vibrant colors are stimulating and captivating.
The WubbaNubâ"¢ can also be an asset in the development of hand-eye coordination. So instead of trying to grasp a tiny pacifier, they have a whole toy to grab, ensuring they will learn how to get the pacifier back in their mouth themselves.
As a new mom, we know how frustrating it can be to have the pacifier drop to the floor or just fall out of your baby's mouth on accident. They don't mean to spit it out half the time. Well, help them out a little, Mom, and give them a WubbaNub.
They are good for newborns up to 6 Months, although my 14 month old still likes to tote hers around and use it occasionally. The pacifier is made out of Latex Free Medical Grade Silicone Pacifier.
This is such a cute and practical item. Would make a great baby shower present too!
Check them out online at
www.WubbaNub.com