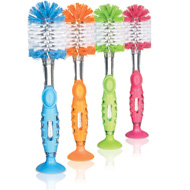 Soap Dispensing Bottle Brush:
This new brush is right on the button with its ability to dispense the perfect amount of soap for each individual bottle. The textured scrubbing bristles reach even the hardest-to-clean areas with ease, so your baby's bottles will always be sparkling clean and safe for the next use. Perfect for those with no dishwasher!!
A suction base secures the brush in an upright position while keeping it free from germs and convenient for one-handed cleaning. Available in four vibrant colors, this brush is guaranteed to match any kitchen decor.
This is a must-have for all moms with new babies. Would also make an awesome baby shower present!!
Price: $6.99
Go to Munchkin.com to find the closest retailer near you!