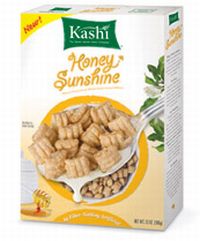 At our house, we like to eat Organic as much as possible, but getting your kids to eat food that is good for them can be hard sometimes. That's why I really appreciate Kashi!
One of our favorite Kashi items is Kashi Honey Sunshine. Their sweet, but not too sweet and the bite sized pieces are perfect for The Bambino, who is getting another new tooth this week.
Each tasty serving of Kashi Honey Sunshine cereal is also packed with great nutrition too!
* High Fiber ~ 6g of Fiber from our combination of whole grains.
* Whole Grains ~ 20g of whole grain, over one third of your daily needs.
* All Natural ~ No artificial sweeteners, flavors or preservatives.
It's totally affordable, so grab a box the next time you're in the grocery store!
~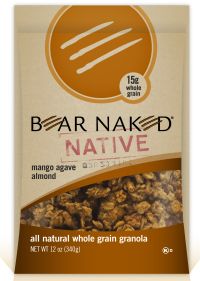 Another thing The Bambino and I like to eat is granola in yogurt! YUUUUUMMY!!!
I frequently divert from my favorite and try a new granola, just to be creative. The last new granola I tried (and liked) was the Bear Naked Mango Agave Almond Granola.
Really good flavor, nice consistency (doesn't turn to inedible mush after 3 mins), and it's really good for you too!
This is another one you can find at your local grocery store. Last time I was in the grocery store I saw 3 different people at the checkout with bags of the Bear Naked granola, so it seems pretty popular too!!!
Check out their website for more info about other flavors…