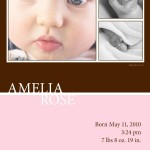 And here is the best invention ever. A magnetic birth announcement!
This ensures that your baby's birth announcement won't go directly into the trash after being read, making them eco-friendly as well as being totally brilliant.
And at like $2.50 each, they are totally affordable too. A great idea for new moms that want to share their joy with the world!