You don't wear paper underwear. Why should your baby?
What: Kushies Reusable Diapers
Want to give a new mom a gift she'll really appreciate? Enter Kushies Reusable Ultra Diapers
. Not only are they better for babies, but they are better for the environment. Give an eco-friendly gift this year!
Kushies® diapers are made of several layers of 100% soft cotton flannelette. More and more parents are choosing 100% cotton for their baby's clothing as natural cotton fibres FEEL BETTER. Not only is 100% cotton known to be more comfortable, it's cooler and more natural to your skin, especially on sensitive body parts! Have you noticed the disposable diaper companies emphasizing 'GENTLE TOUCH' – 'SOFT FEEL' – 'COTTON/LIKE' Everyone is trying to get BACK-TO-BASICS.
Why: Kushies fit better than other cloth diapers I've used in the past. I hated folding and pinning and leaks. Ugh! It was such a mess that I gave up after a few days of cloth diapers.
The velcro closures make them super easy to put on and take off. Even the most incompetent dad can't mess these up.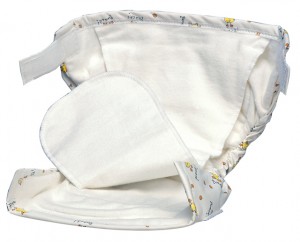 Not only are they easy to use, virtually leak free, eco-friendly, but they save you bundles of cash too! Check out the chart and be amazed at how much money you will save over a period of 2 1/2 years of diapering your new baby.
I prefer to use the Kushies Flushable Biodegradable Diaper Liners
during the time of day I know she'll make a big mess. Then it's really easy to clean up. Just lift the liner off the diaper and flush it down the toilet. Done! It also helps your reusable diapers last longer as well.
You can also use the Kushies Washable Diaper Liners for Ultra Diapers
for extra absorbency like nap time, bed time, or when you and your baby aren't at home.
Don't feel like you have to exclusively use cloth diapers either. I only use cloth diapers when I'm at home. When I go out, it's just much easier to throw on a disposable. I'm still saving loads of cash by using the cloth diapers at home though, because instead of using like 8 disposable diapers per day, I'm only using 2-3 a week.
I could go on and on about these diapers, but I will at least say this: If you want to try cloth diapering, Kushies is your best bet. They are the most affordable, easiest to use, most convenient, and most comfortable for your little one.
If you have questions about Kushies, click here.
Price: $38-40 (5 pack)
Where: walmart.com
or kushiesonline.com
Discounts: Use code FHHA08 to receive a 10% discount on any order from www.kushiesonline.com.