'Wow! Wow! Wubbzy! A Little Help From My Friends'
New DVD Arrives in Stores TODAY!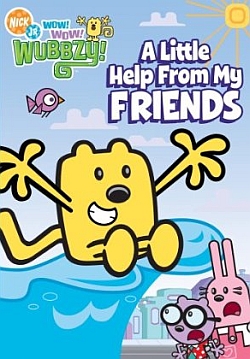 My daughter's favorite TV show in the whole world is Wubbzy! Doesn't matter what is happening or how she's feeling, when Wubbzy comes on, she's glued to the set until it's over. She squeals with excitement at the very mention of Wubbzy. It's just magical.
She is actually sitting in front of the TV watching it right now! The episodes on this DVD are great. My favorite one is "Mr Cool" where Walden tries to be what he thinks other people want him to be. Then he realizes that's it's more important to just be himself because being "cool" is all relative.
My favorite things about Wubbzy is that every show is educational. They teach you something really cool and sing a song about it at the end. And unlike most kids shows, this one is so far from annoying that I will actually sit down and watch it with my daughter.
We watch Wubbzy SO MUCH that I know the words to every song in every episode…. They are fun and really catchy! Trust me, you'll see…..
Here are some details on the new DVD:
Everyone needs a little help from their friends – even Wubbzy, Widget and Walden! On February 3, friendship takes center stage as the hottest new pre-school animated series "Wow! Wow! Wubbzy!" returns to DVD with A Little Help from My Friends

Featuring an amazing silver foil o-card, this new 92 minute release is available from Anchor Bay Entertainment for the suggested retail price of $16.98. This new release follows the hugely successful launch of Anchor Bay's first Wubbzy DVD collection, "A Tale of Tails", as well as the second season of "Wow! Wow! Wubbzy!" on Nick Jr. and other "Wubbzy" retail items.

Wubbzy is a fun, lovable, curious little guy who just likes to play, play, play with his friends in the wild and wacky town of Wuzzleburg. He's charmed young children, been a smash hit online, wowed an array of top licensees and otherwise won over anyone who's met the most famous, lovable resident of Wuzzleburg. Now, kids can watch Wubbzy and his pals discover the importance of friendship, cooperation, sharing and teamwork in the Emmy® Award-winning series that provides essential, wholesome life lessons while keeping the kid's laughing. "Wow! Wow! Wubbzy!" has been a hit with pre-schoolers since its August 2006 premiere on Nick Jr. in the U.S. and now channels in more than 50 markets worldwide. Currently, "Wow! Wow! Wubbzy!" airs nearly 40 times a week on Nick Jr. and Noggin.

"Wubbzy" is also a huge success on other platforms. On Nick Jr.com, it is the No. 1 game for preschoolers with more than 220 million game plays! The property has also partnered with dozens of high profile licensees, including Fisher Price, Hasbro, Scholastic, Simon & Schuster and Ty Beanie, among many others who are all set to make Wubbzy the next big retail star! "Wow! Wow! Wubbzy!" was created by Bob Boyle and is produced by Bolder Media, Inc. in association with Film Roman, a Starz Media company. Boyle, Susan Miller and Fred Seibert are the executive producers.
DVD extras on "A Little Help From My Friends" include:
2 Bonus Episodes
Bonus Music Video
Kooky Kostume Game
Coloring Pages
Printable Activities
Sneak Peeks
The DVD features six great episodes plus two bonus episodes, all focused on the important values of friendship:
· A Little Help From My Friends – When Wubbzy wants to borrow a wrench from Widget to fix his bike, Widget takes over the whole operation. Wubbzy is tired of needing help from his friends – they treat him like a little kid. He decides to cook them a dinner all by himself. Can Wubbzy pull off the dinner with no help at all?
· A Clean Sweep – It's house-cleaning time, and Wubbzy has plenty of chores to do but he's having too much fun with his kickity-kick ball to clean the house or do anything else. With the mess piling up, Wubbzy looses his ball. Hopefully Wubbzy, Walden and Widget can restore order.
· Mr. Cool – Walden wants to go the Wuzzleburg Boogie Bash, but he thinks you have to be cool to go. Walden tries to be cool but realizes everyone likes him just the way he is.
· Wubbzy in the Middle – When Walden needs to clean up his library, Widget brings in a new machine, the Handy Helper 3000. The machine malfunctions and tosses the books all over the place. Walden and Widget will no longer talk to each other and now Wubbzy is caught in the middle.
· Gidget the Super-Robot – Widget builds a mirror-image robot of herself, called Gidget, which can do anything she can. Wubbzy and Walden start playing with the robot more than with her! Will Gidget the Super-Robot take over Widget's life?
· Broken Record – Walden is handing out trophies to everyone who qualifies for the Wuzzleburg Book of Records. Wubbzy decides that he wants to break a record and collect a trophy but each time he tries someone needs his help. Which record will Wubbzy break?
CLICK HERE to purchase Wow! Wow! Wubbzy!: A Little Help from My Friends RIGHT NOW!