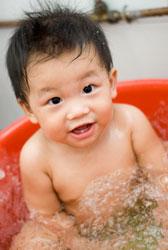 It seems that the more sophisticated our body products become, the closer we must look at what is actually in them. We have gone from the days of plain old lye soap to products of every type catering to every group, young and old alike. The most concerning groups of body products are those targeted at babies and children. At a time when young bodies are growing and developing, our children are being exposed to countless chemicals – the result of which is still totally unclear. What is clear is that babies may be exposed to several products at bath time, several times a week, in addition to other chemical exposures in the home and environment. Those small exposures add up and may contribute to later-life disease.
The March 2009 Campaign for Safe Cosmetics report, "No More Toxic Tub", has just been released and the findings are disturbing. Not only are known cancer-causing chemicals such as formaldehyde and 1,4-dioxane being found in products advertised as "safe and gentle", but these chemicals are not disclosed on product labels because they're contaminants, not ingredients, and therefore (unlike other countries) are exempt from labeling laws in the U.S. Manufacturers can easily remove the toxic byproduct, but are not required by law to do so.
Since we can not count on our systems to ensure ingredient safety, we must fend for ourselves. The mission of Ulew Natural Products is to find and offer safe cosmetics. Our products are the cleanest around. Good, food-grade, quality natural ingredients – including and especially our baby products. Help your children get a good healthy start in life!
Check out Ulew's full line of baby products.
Read the full article, see the safety guide to children's personal care products and find out what you can do here.