Mother of Six Replaces Myths and Guilt with Empowering Truths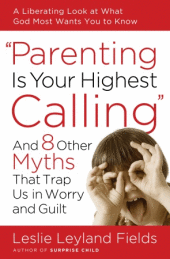 Large families are the subject of reality shows, best-selling books and now the recent controversy over the mother of Octuplets – these have all stirred up conversations about parenting capabilities and responsibilities. This is little surprise to author Leslie Leyland Fields, a mother of six. Fields did not intend to have a large family, but she had two surprise children later in life and has since defended large families and she upholds the high value of children and life.
Fields believes this is the right time to question parenting beliefs and assumptions. "We know by now that we are asking the wrong questions. We are so focused on ourselves—and our own need for success and the success of our children—that we have come to view parenting as a performance or a test. We cannot pass this kind of test."
In her new book, Parenting Is Your Highest Calling: And Eight Other Myths That Trap Us in Worry and Guilt
, challenges common myths of parenting, including these beliefs:
• Myth : Having Children Makes You Happy and Fulfilled
• Myth: Good Parenting Leads to Happy Children
• Myth: You Will Always Feel Unconditional Love for Your Children
• Myth: Nurturing Your Children is Natural and Instinctive
• Myth: If Parenting is Difficult, You're Not Following the Right Plan and 4 more!!
Each myth is replaced with life-transforming truths that liberate readers and "break the cycle of guilt and failure" says Fields.
Truths such as these:
" A parent's job is not to make their children happy – but to do for their children what they cannot do for themselves: to parent for the child's long-term good over their short-term happiness"
"On your parenting journey you may feel frustration, impatience, anger or hurt as you raise your children. None of this means you love your children any less."
Ultimately, Fields' myth-busting returns parents to their families with a deeper commitment and clearer understanding of their role, restoring hope and joy to discouraged mothers and fathers. Leslie Leyland Fields is the author of six books, including Surprise Child and Surviving the Island of Grace. She has been featured in The New York Times, Christianity Today, The Atlantic Monthly and The Christian Science Monitor. The mother of six, she divides her time among parenting, writing, speaking, commercial salmon fishing and teaching in Seattle Pacific University's MFA program. Leslie and her family live on Kodiak Island, Alaska. Visit her online at www.leslie-leyland-fields.com.
I found this book to be extremely refreshing. It's so nice to hear another mother that understands what you're going through, and yet doesn't judge you. Most moms I know tend to look down on you if you mention that you are overwhelmed or tired… I think every mother should read this book. It's just so helpful and makes you stop feeling guilty for not being the perfect mom. I highly recommend this book!
Parenting Is Your Highest Calling: And Eight Other Myths That Trap Us in Worry and Guilt

by Leslie Leyland Fields is available on Amazon.com
for $11.19. Or get it in your local bookstore for $13.99.