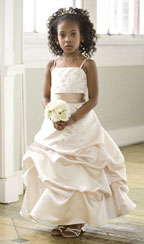 Children often play an important role in a wedding and one of the most well know roles is the flower girl. The flower girl's job is to follow the bridal party up the aisle tossing flowers onto the ground.
Preparing for this special day is a lot of work for the bride. The bride must consider the flower girl when choosing a dress for the bridal party because the flower girl's dress is usually similar in style.
The wedding guests at the celebration often enjoy this part of the wedding because children can be unpredictable. Some may run up the aisle while others may move slowly without tossing the flowers.
With many flower girl dresses available, choosing the best gown can be a difficult decision for the bride. The best way to find a beautiful dress is to choose something similar to the dress worn by the bridesmaids.