New from Huggies comes Pure and Natural diapers! The new super premium diaper features a breathable outer cover that includes organic cotton. Plus, it's hypoallergenic, fragrance free and includes a touch of aloe and E.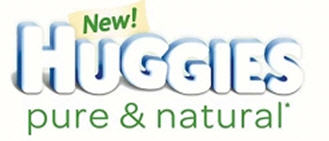 We're giving away 1 pack of the new Huggies Pure & Natural Diapers
to 1 lucky winner! Please note that you may choose from the following sizes
Newborn (Up to 10 lbs)
Size 1 (Up to 14 lbs)
Size 2 (up to 18 lbs)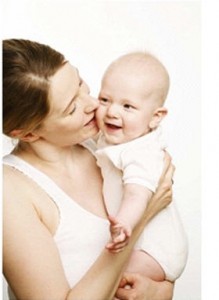 I got to try these fabulous diapers and they are so soft and cuddly! If you aren't into cloth diapering, but want to do good by your baby, these natural diapers are a great alternative. These are also a great choice for cloth diapering moms that want something easy for backup while they are out and about, but don't want to compromise on quality and natural elements.
Don't want to wait to win? Sign up for a free sample or purchase Huggies Pure & Natural Diapers
on Amazon.com or your local grocery store.
Also new from the brand is Huggies® Enjoy the Ride Rewards, which offers moms a chance to earn reward points which can be spent on chances to win valuable prizes such as trips, gift cards and more! Moms can sign up for the rewards program by going to www.enjoytheriderewards.com, and entering special codes that will be located on direct mail pieces, magazine ads, and online. Moms can also earn points by taking polls, watching videos and participating in other fun activities on the program's Web site.
Wanna Win?
You have to be a mom or know a mom to win! All you have to do is tell us the name and age of the baby you'll be using the diapers on and enter your name and valid email address into the contest box below. That's it!
We'd also super appreciate it if you tweet about the contest or post about it on your own blog!!
Details
Winner will be chosen at random. Must be 18 or older and a US resident to enter. Contest runs from June 16th – 23rd. Last chance to enter is June 23rd at midnight.
More Info About The Diapers
Huggies Pure & Natural Diapers
are a super premium diaper that includes natural, organic materials and ingredients to provide gentle protection for new babies, as well as initial steps toward environmental improvements, without sacrificing performance.
The new Huggies Pure & Natural diaper is hypoallergenic, fragrance free and features a breathable outer cover that includes organic cotton. The liner includes natural Aloe & Vitamin E and materials from renewable sources, and the product's outer packaging is sourced from 20 percent post-consumer recycled materials. The new diaper is offered in 6 sizes, from newborn through size 5.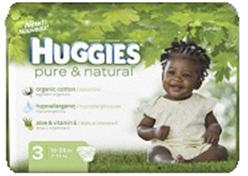 They expect the Huggies Pure & Natural diapers will help the brand build inroads with those moms who are most interested in products that include natural materials to provide the best care for their babies. According to a Kimberly Clark consumer research study, the moms surveyed expressed a strong interest in purchasing Huggies brand diapers that included organic and natural materials.
"The new Huggies Pure & Natural diaper is designed for moms who desire to provide their babies the best and most gentle care without sacrificing comfort and protection, while using a product that includes organic and natural materials," said Robert Thibault, president of Kimberly-Clark's North American Infant, Baby & Child Care business. "This innovative Huggies brand diaper offers delicate protection for baby, along with the increased use of renewable materials, ushering into the category a new disposable diaper that delivers the utmost in performance and care along with steps toward environmental improvements."
K-C's retail partners have also shown a strong interest in the new Huggies premium diaper. Most of the company's customers have already submitted orders to begin
offering Huggies Pure & Natural diapers as part of their infant and baby care product offerings.
"Based on the preliminary response we've received thus far, we expect the unique attributes this diaper offers will be well-received by moms and our retail customers, and will help drive incremental dollar growth in the category," said Thibault.
Huggies Pure & Natural diapers are now available in North American retail outlets. For more information on the new Huggies brand diapers, visit www.huggiespureandnatural.com.