Each year in the U.S., nearly 13,000 children and adolescents are diagnosed with cancer–which sadly is the leading cause of death for children ages one year through adolescence. Today about 75% of children diagnosed with cancer become long-term survivors (up from >10% in the early 1950s), largely due to advances made by pediatric cancer research, which has led to essential treatment strategies such as multi-agent chemotherapy and combined modality therapy.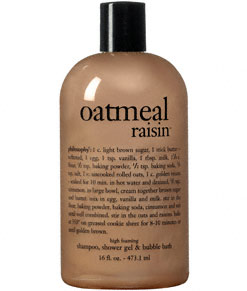 Research can and is making a difference, and philosophy invites you to join the fight against this deadly disease by supporting pediatric cancer research. From now through October 15, 2009, philosophy will be donating 100% of the net proceeds of their oatmeal raisin high foaming shampoo, shower gel and bubble bath to Cookies for Kids' Cancer–an organization created to raise awareness of and funds to support research for new and improved therapies for pediatric cancer through the concept of hosting local bake sales.
If you are interested in learning more about pediatric cancer research or in contributing to this vitally important cause, we invite you to visit the Cookies for Kids' Cancer website and learn how to throw a bake sale of your own in four easy steps (planning, details, bake, sell). Or, support the cause–and give yourself a no-calorie treat–by purchasing your own bottle of Oatmeal Raisin bath gel from philosophy!