It is amazing how Hollywood dictates fashion, but it does. So guess what brand of clothing Amy Poehler's son was caught wearing? Splendid Littles!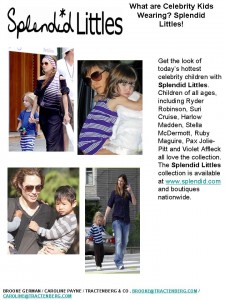 We received the following about Splendid Littles and Ella Moss and wanted to share it with all of you:
Following in the success of Moise Emquies' luxury tees, tanks and thermals brand Splendid, in 2002 Pamella Protzel Scott along with Moise Emquies launched the Ella Moss collection, striving to bring their shared vision of creating a collection that is comfortable, fashionable and casual—but with a bit of an edge- to the masses. Today, both Splendid and Ella Moss are now worn by celebrities, featured on the big screen, and sold in luxury retailers across the globe.
The marriage of style and comfort that is the hallmark of both brands extends also tweens and toddlers, bringing their signature casual chic style to all ages. Ella Girl, (girls ages 7-13), Little Ella (girls ages 2-7), Splendid Girl (girls ages 7-13) and Splendid Littles (girls ages 2-7) both embody the carefree spirit of LA-native Protzel Scott, taking inspiration from the mainline in bright colors, soft fabrics and comfort silhouettes.
In addition to Ella Moss and Splendid being favored by Hollywood stars, they also dress their children in the diffusions lines as well! The children of Angelina Jolie and Brad Pitt, Christina Aguilera, Nicole Richie, Jennifer Garner and Jessica Alba have all been spotted in Splendid Littles. In addition, Salma Hayek, Kate Beckinsale, and Cindy Crawford have all dressed their little ones in Ella Girl and Little Ella. Even future fashionista Suri is a fan!
Whimsical, girly, free-spirited—these three words describe not only the Ella Moss collection, but also its founder and designer, Pamella Protzel Scott. An L.A. girl at heart, Protzel Scott has brought her unique vision and singular style to the brand, making ella moss one of the fashion world's hottest contemporary collections in just a few short years.

Within just a few short months, Ella Moss began generating significant buzz and was literally catapulted into fame when Protzel Scott designed a green striped cotton dress that was worn by Sarah Jessica Parker's character Carrie Bradshaw on Sex and the City. Protzel Scott's inspiration for that dress – and many subsequent designs – is indicative of the feel of the collection as a whole and what she describes as "flowy femininity with the comfort level of a t-shirt."
Featured on hit TV shows like The Hills, Brothers & Sisters and Desperate Housewives, Ella Moss has a strong celebrity following and is a favorite of stars like Lindsay Lohan, Naomi Watts, Nicole Richie, Kate Hudson, Jessica Biel, Gwyneth Paltrow, Cameron Diaz, and Kirsten Dunst.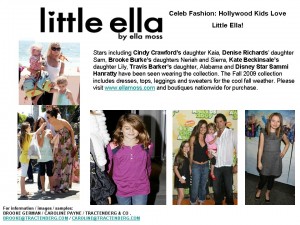 Ella Moss retails at exclusive department stores and boutiques such as Barneys New York, Bergdorf Goodman, Fred Segal, Henri Bendel, Intermix, and Ron Herman LA.
Resources:
---
---