Below is an email we received that we thought might be worth mentioning considering how important our feet are. It is interesting and makes you think about the health of your feet. Doesn't the picture below look like a soothing way to treat your feet to a bath after a busy day on the go? Talk about pampering yourself!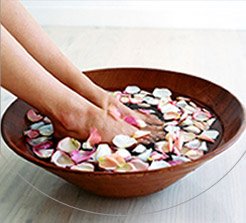 The Email:
With winter months approaching, barely anyone is worried about what their feet look like under the boots they are wearing. Little do they know, popular boots such as UGGs, are not only keeping their feet warm, but are doing a lot of damage as well. Winter boots that are made without support can cause your feet to become sore and achy. Most people suffer from foot and leg problems due to the lack arches in winter boots, such as UGGs, which lead to heal spurs and also shin splints. Luckily, Surgical Director of NYC FootCare, Dr. Oliver Zong, can easily fix your foot problems with a foot facelift this winter.
Foot ailments can occur from improper foot function and improperly warn shoes during snowy and icy conditions. Proper footwear for icy, slush conditions is a pair of waterproof boots with good traction on the bottom. These will keep you from slipping on the snowy pavement.
Common foot problems are arch pain, corns and bunions which are easily treated for through surgical procedures. Recovery time usually takes a few weeks, but the results will have you walking in no time. For those who are looking to take care of their feet, Dr. Zong's procedures will have them beautified in the winter, to look great in the summer!
Dr. Zong's Do's and Don'ts for Healthy Winter Feet
* Do invest in boots with support and an arch
* Don't wear boots with heels, to prevent slipping
* Do wear good socks to keep your feet insulated
* Don't let your toenails go untrimmed
* Do keep your feet as dry as possible to avoid cracking of the skin
* Don't forget to moisturize the soles and heels of your feet daily
* Do Allow your feet to air out between shoe and sock changes
Winter can be less stressful when you take care of your feet.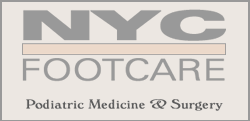 Information on Dr. Zong
Dr. Oliver Zong is a podiatrist in Manhattan's influential Financial District. As one of the premier cosmetic foot surgeons in the country, he serves as the Director of Surgery at NYC FOOTCARE and is on the Board of Directors at Gramercy Park Surgery Center. Besides traditional and cosmetic foot surgery, Dr. Zong is also an accomplished cryosurgeon and co-founder of the Podiatric Cryosurgery Center of New York. He is an attending physician at New York Hospital Downtown, Wyckoff Heights Medical Center, Cabrini Medical Center, and Gramercy Park Surgery Center. Dr. Zong graduated as Valedictorian from New York College of Podiatric Medicine where he earned his degree, Doctor of Podiatric Medicine (DPM). An accomplished foot surgeon, Dr. Zong is credited with coining the terms, "Foot Makeover", "Foot Facelift", "The Toe Tuck", and "High Heel Feet". An expert in his field, Dr. Zong has appeared on numerous national and local television news programs and has also been featured in numerous health and beauty magazines and newspapers across the country. For more information please visit www.NYCFOOTCARE.com.