Are you looking for a new nursing top? Well, the Titi Collection, is the lifestyle brand featuring beautiful handcrafted accessories and fashionable nursingwear tops for moms. They are releasing their brand new FRESH ESSENTIALS line!
FRESH ESSENTIALS epitomizes the same superior function and style as Titi Signature tops, and are made from stretch jersey with a built-in Italian lace bra. The new collection is available in the following styles:
Jasmine Top ($78) Shown to the right below: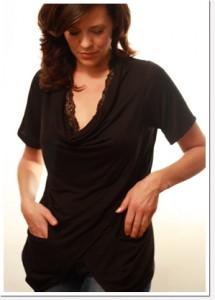 -Black stretch jersey tee with deep cowl neck
-Petal shaped opening in front for effortless, discreet nursing access
-hip pockets
Tulip Top ($88) Shown below: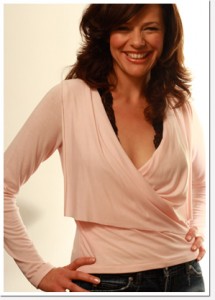 -Light pink, extra soft stretch jersey tulip top
-Exaggerated lapels flatter the neckline and can be draped as a cover for discreet nursing

Lily Top ($72)Shown right below: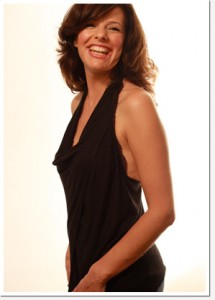 -Black, stretch jersey halter-top with adjustable tie that allows for a customized fit
-Deep cowl neck and long, petal shaped opening in the front for discreet nursing
-hip pockets
As always, Titi collection pieces are made by a mom, for moms using the finest salvaged fabrics. The limited edition tops are designed to offer new moms fashion and function to simplify their busy lives.
Titi also has a beautiful line of child-safe "Mommy & Me" necklaces and bracelets made from silk or chiffon and Swarovski crystals, starting at $29.95.
To learn more about the TITI COLLECTION, please visit the site below:
http://www.TitiCollection.com/shop.html