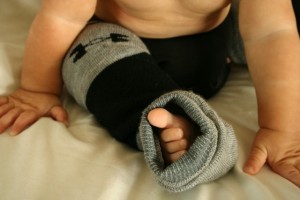 These thick athletic baby leggings look so cozy and warm for little ones, not to mention cute! They are made with 30% wool, so they are a perfect winter accessory for those chubby legs! The creator of these leggings says they are great for wearing as an extra layer under pants, or wear alone with just a diaper. We all know how babies love to go around in just their diapers and this provides a compromise for the chilly days they happen to strip down to next to nothing.
The interesting thing about Chubby Legs Baby Leggings is that they are made from men's athletic socks. Neat, eh? Each legging measures approx. 14″. It is recommended that they are machine washed and only tumble dried. The colors for this pair are are black and gray. See below for more color options. Another important Mama's Baby Love reports is because they are only 30% wool, they are not itchy!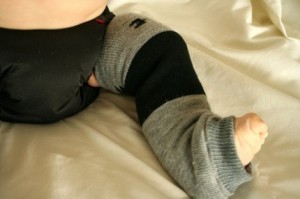 You may purchase these cute wool baby leggings here. She also has a pink pair here, a red pair here, and a lavendar pair here.
For more products visit Mama's Baby Love Shop.