Gift Card Granny is a shopper's alternative to buying new gift cards. Gift Card Granny offers consumers a comprehensive listing of discount gift cards on Internet.
In today's fast-paced world, many consumers don't have the time to peruse through department store after department store to find the ideal gift. There is just not enough time in the day. Thus the reason gift cards are more popular than ever. Recognizing consumers' limited time to shop and the ever-increasing prominence of gift cards, the founders of a network of frugal living web sites have introduced Gift Card Granny, which serves as the most comprehensive listing of discount gift cards on the Internet.
Gift Card Granny is a comparison shopping website for discount gift cards. Founder Luke Knowles and his team sift through the cards and highlight the ones that offer the greatest savings – up to 50 percent off the face value. On a recent day, a $250 gift card from Barnes & Noble listed on Gift Card Granny was on sale for $225, a 10 percent savings. The gift cards are shipped for free.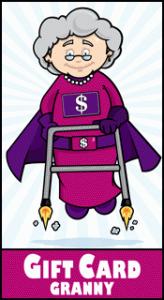 Gift cards are not only ideal to purchase for someone else, but you can save money on everyday items by purchasing them, and then combining them with a coupon code from a website like CouponSherpa.com.
Gift Card Granny also has a section that instructs readers how to sell gift cards they don't want. "You will likely not get full value, but at least it gives you opportunity to get most of the cards value back," Knowles said.
The Gift Card Granny blog offers articles with tips related to buying and selling gift cards. A recent feature detailed "21 Easy Gift Card Holder Ideas" designed to "warm up this simplest-of-all gifts by personalizing the gift-card holder." Another article enlightened readers on "How to Avoid Buying a Fraudulent iTunes Gift Card on eBay."
"The logo includes Gift Card Granny with a dollar sign outfit and a walker with fire breathing out of the bottom," Knowles said. "The grandmother superhero is appropriate since, traditionally, grandmas are frequent buyers of gift cards for their kids and grand kids."
###
Gift Card Granny is the most comprehensive listing of discount gift cards on the Internet. Gift Card Granny is the newest member of The Frugals, which is a family of frugal living sites created by Luke Knowles. Coupon Sherpa, Mr. Free Stuff and Mrs. Sweepstakes are the others.