Are you looking for something extra special for you and your daughter this Christmas? I think I have found one of the best "luxury" gifts that you'll find. The "Mommy and Me" Collection from Naina Kothari is a beautiful collection of gold jewelry made especially with mothers and daughters in mind. A gift set from this collection would not only make a fabulous Christmas present, but would also make christenings, birthdays and right-of-passages special as these are designer pieces, hand-made by Naina Kothari.
Ms. Kothari supplied me with this statement,
Naina Kids is available in 3 sizes: Mommy, Child, and Baby. Custom sizes and designs are available upon request. Each piece is carefully handmade in Los Angeles from genuine gold, stones, and pearls. The line consists of Mommy and Me pieces and a birthstone collection.
There are actually several pieces in the collection which include a birthstone bracelet, flower stud earrings and matching flower pendant in white gold and pearl stud earrings. But for this post I want to focus on the Mommy and Me Charm bracelet and necklace pendant.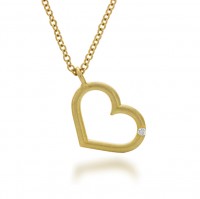 The Heart Necklace Pendant
The heart pendant is a lovely piece that is made from 14K yellow gold. When I look at something like this and think of my daughters, I think of a special gift to show our love for each other and as Naina's website says, "the perfect way to display the eternal bond between mother and child". We do share a bond of love with our daughters that is forever. This means that we need to be continually thinking of ways to show just how special our daughters are to us. Not just in material gifts, although those gifts given with careful thought can have an important impact, but we need to bind our hearts with our girls in everyday ways to make sure they know they are special. We also need to enlist our husband's help to reaffirm our daughters during the crucial years of pre-teen thru adulthood because dads play such an integral part in a girl becoming a woman.
It isn't mentioned on the website, but Naina told me that the heart charms (also offered in star, peace, cross, om, and star of David) all come with a chain. The flower pendant can come with or without a chain, its up to the consumer (extra charge for chain though). Plus, as seen in the photos, the charms in both the necklace and bracelet have a beautiful diamond in them. They can be set with a birthstone upon special request.
What little girl doesn't like to wear a bracelet? The heart charm bracelet is just as lovely as the pendant, don't you think? It is also 14K yellow gold and comes with a choice of the following charms: heart, star, peace, cross, om, and star of David.
Price
The baby bracelet retails for $200, child bracelet retails $250, and mommy necklace retails $350.
About Naina Kothari
Naina Kothari is an artist in the truest sense of the word. She has learned three types of classical Indian dance and has taken different classes ranging from singing to oil painting. She expanded her knowledge to include jewelry design at the Gemological Institute of America (GIA).
Naina feels that creating jewelry allows her to express herself in a beautiful way and it has truly become her passion. Her inspiration comes from all aspects of her life. She finds beauty in nature's colors, paintings and also from her travels.
Through her family's wholesale business, Naina has access to some of the rarest and finest jewels in the world. She says,
Looking at rare stones inspires me to create unique designs that people enjoy wearing. I love pairing different colors and stones together and creating bold looks.
Once you enter Naina's website click on "Glimpse" at the bottom of the page and it will take you to two choices – Naina Kids will be to the right. Clicking on each photo will enlarge it and give you a glimpse of the quality each Mommy and Me piece has. For more information, please email info [at]nainakothri [dot] com