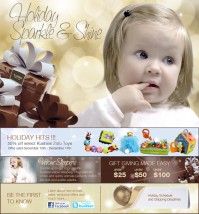 I have just looked through some unique, but very cute Zolo toys. I had never heard of them until now. Deprived, aren't I? No, just unusually busy! 🙂 However, if any of you are still shopping for little ones, Kushies has announced a 50% off sale through December 17 on some of their award-winning Zolo toys including:
–Digs Magnetic Shape dog house, regularly $85 now $42
–Fuzzi Shag, regularly $14.99 now $7.49
–Libro Coco activity book, regularly $22.99 now $11.49
–Pupa Musical Caterpillar, regularly $59, now $29
–Playgarden, regularly $73 now $36
That's some serious savings and it isn't even an after Christmas sale! Visit www.kushiesonline.com to see these great gift ideas.