Moms, do you need some holiday aromatherapy to ease the Christmas chaos?
We love the smell of our thieves blend permeating through our home when we run our diffuser and we use other personal care products that contain essential oils, but no skincare products yet. DECLÉOR offers a collection of eight skincare products that use a combination of several essential oils.
DECLÉOR takes pride in its rich natural Aromatherapy heritage and unique distillation process that produces 100% pure and natural, preservative-free AromessenceTM. As the pioneers in the field, the DECLÉOR research scientists have combined several essential oils to obtain a myriad of beneficial all-natural treatments. In their pure form, essential oils posses an effectiveness of exceptional force and when combined, they have the astonishing power to stimulate the effectiveness of each other's benefits. This is why each DECLÉOR AromessenceTM is formulated with a specific blend of at least eight essential oils at concentrations high enough to yield effective results for any skin concern.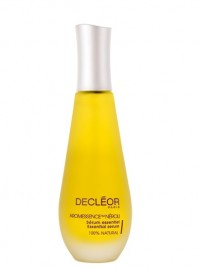 The silky, non-greasy texture of the AromessenceTM Serums is specifically formulated for day time application and offers Aromatherapy benefits with its premium, natural essence uplifting fragrance. An AromessenceTM applied before other skincare products acts as a "beauty booster" to treat, purify and balance the skin.
For nighttime, an AromessenceTM Balm applied before bed becomes "beauty pajamas" for the skin and offers comforting properties to help skin regeneration. As you sleep, time released formulas packed with essential oils and waxes work to repair and nourish skin, while maximizing relaxing Aromatherapy benefits.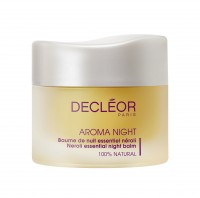 Description: A nightly treatment balm for all skin types.
• Softens, smoothes and soothes
• Brightens and rejuvenates
• Purifies and balances
• Deeply nourishes
• Supplies lasting moisture
Recommended Use: At night, warm a small amount of balm in the palms of your hands and apply to your cleansed face and neck, by massaging gently.
Active Ingredients: Essential Oils and Resinoïdes of Basil, Chamomile, Neroli and Tonka Bean, Plant Oils and Waxes of Avocado and Hazelnut
Suggested retail price: $69.00 (1 fl. oz)
All the DECLÉOR AROMESSENCETM Serums are $64 – $91 per 0.5 oz bottle and the BALMS are $67.00 – $89 per 1.00 oz jar. The collection is available at Nordstrom.com, decleordirect.com and spas and salons nationwide.