See Kai Run® Customers Generate Donation of
2,400 Pairs of Shoes through November "Share A Pair" Matching Event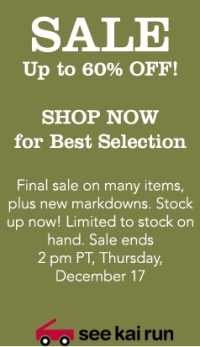 During this season of giving, See Kai Run, popular manufacturer of the perfect first shoe for new walkers, is making sure that for every pair of shoes sold during November at its retail Web site (www.seekairun.com), a pair also goes to a child in need. As a result of the matching event which ended November 30, 2009, See Kai Run will donate nearly 2,500 pairs of shoes to Soles4Souls before the year's end.
Soles4Souls is an international charity dedicated to providing footwear to disadvantaged people around the world. Their global efforts primarily target orphanages throughout Central and South America, Europe and Africa. According to Soles4Souls, over 300 million children world-wide have never had one pair of shoes. With this donation, See Kai Run will have shared a total of over 36,000 pairs of shoes to children who need them the most. "Share A Pair" is part of See Kai Run's overall charitable giving campaign, which focuses on international, national, and local charities for children. See Kai Run would like to thank its customers for making donations such as these possible.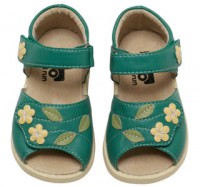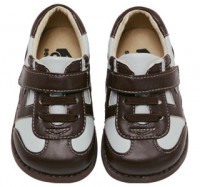 About See Kai Run
See Kai Run and Smaller promote healthy development of babies' and children's feet with their ultra-flexible soles, soft leather and wide toe box. Our footwear meets the American Podiatric Medical Association's rigorous standards for foot health and functionality and has been awarded the APMA's prestigious Seal of Acceptance. Retail price starts at $32.