Don't forget about the Kmart Bluelight Special Holiday Sweepstakes! You might be interested in some of these Kmart coupons that I came across as I searched for a photo for this post, as there are some that you might be able to apply in addition to the Bluelight savings. http://www.bonus.com/coupons/Kmart.html
Here are this weekend's Bluelight Special teasers.
Below are the teasers for this weekend December 19th and 20th: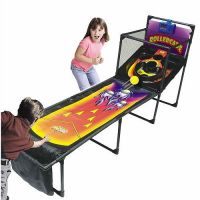 · Boys/Girls Licensed Hoodies $8 (reg. $18.99)
· Essential Home 10 pc Sets $29.99 (reg. $49.99) (Not sure if its the bedding or the pots, as the rep. did not say.)Just got word it is the bedding!
· Rollercade $49.99 (reg. $79.99)
Don't forget to follow @KmartDealsnNews and use the #KmartBLS hashtag for a chance to win every day! For more info & rules: http://tr.im/KmartBLS.
Remember the sweepstakes ends on December 23rd so keep the tweets coming use the #KmartBLS hashtag for a chance to win every day!
With the holidays around the corner, Kmart has extended their shopping hours from 6am-12am through December 23rd and 6am-10pm December 24th.

Use the following link to tweet about the new shopping hours and enter yourself for the daily drawing! Shop @KmartDealsnNews extended Holiday hours: 6am-12am until 12/23 and 6am-10pm on 12/24! #KmartBLS.
Happy Holidays and happy shopping!!