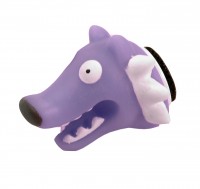 These cute little Animal Cable Clips would make great gift toppers or stocking stuffers if you are starting your Christmas shopping for 2010 during the after Christmas sales, which is something I did for the longest time.
What's special about these Animal Clips?

All-purpose cable holders
Adds personality and charm to any dull workspace.
Organizes your cables thereby protecting your equipment
Hook and loop attachment for versatility.
30 designs to choose from.
Kids love them! A great way to make your kids organize their gadgets.
Can be used for USB flash drives, cables, ear bud headphones, etc…
Easily removable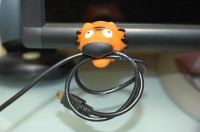 I have to agree that kids love them, especially almost two-year-olds who tend to find everything and anything. A certain almost two-year-old took our animal cable clips off the desk where they were "managing" some off our office equipment cables. We have yet to put them back up. They were definitely working at holding three cable cords, until he found them though. My husband thought thicker cables work better. For example, our phone cords were too thin and the animal's mouth did not "bite" down hard enough to hold the wires in place.
These nifty little critters are very inexpensive costing only 55 cents for purchases in quantities of 1-4. For quantities above four, the price is discounted and discounted again when the amount is 10 +. The Animal Cable Clips may be purchase in many species of animals at CableOrganizer.com
If you look at the ad at the top of this page, you will see that CableOrganizer.com is also offering a discount on purchases. You might have to refresh the page to see Cable Organizer's ad. Perfect timing for a New Year's purchase!