Little Giraffe, a high-end baby line that promises to provide consumers with luxurious, exclusive, and hassle-free children's apparel and
accessories.
Sold in stores and boutiques such as Barney's, Nordstorm, Layla Grayce, and Petite Tresor, Little Giraffe also has large celebrity mom fan base including Jennifer Garner, Nicole Richie, Angelina Jolie, Katie Holmes, Jessica Alba, Halle Berry, Gwen Stefani, and Tori Spelling
who all spoil and comfort their little ones with Little Giraffe's incredibly soft, chenille products. Soon-to-be celebrity mom Rebecca Gayheart will be welcoming home her baby girl in a Little Giraffe blanket. Below is Katie Holmes with her daughter Suri: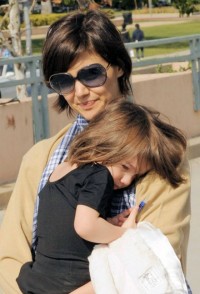 While all Little Giraffe plush products seem unbelievably lavish, they actually epitomize quality and convenience because everything is machine washable. Preferred by the Celebrity Bambino and perfect for all babies.
Chenille Blanket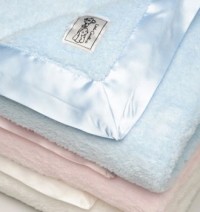 Chenille front and back, Solid Satin picture-frame Border. 29″ x 35″. Comes as a blanket, blanky, burpy and hooded towel.
Satin Chenille Blanket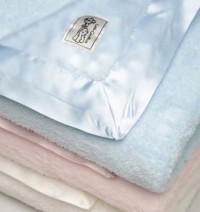 This is a neat blanket that I wish I had known about long before now. Chenille front, Solid Satin back, Solid Satin picture-frame border. Satin for the summer and chenille for the winter! A perfect combination in my mind. Blanket measures 35″ x 45″. Available in the blanket, blanky and pillow.
---
---