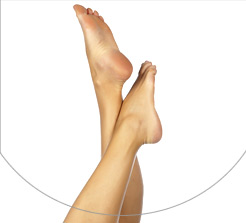 Many women enjoy the pampering experience of a manicure or pedicure, I've only had either of them once when I was in the hospital because this hospital's philosophy at the time was to give an expectant/new mom a "pampered pregnancy". We just got word about some do's and don'ts for avoiding the pedi-scare so you can experience a safe and relaxing spa pedicure. Read on to find out just what they are….
According to most American women, a trip to the nail salon or spa for a pedicure is not just a luxury – it is an accepted portion of their weekly beauty regimen! With so many women including pedicures as routine, it is no surprise that the bar has been raised when it comes to safety standards. According to New York City cosmetic podiatrist Dr. Oliver Zong, "a pedicure is something I recommend to my patients who want to maintain both the health and look of their feet, but I warn them to 'proceed with caution' when choosing a nail salon to frequent."
Dr. Zong's hesitation is warranted: in October of 2000, the Center for Disease Control and Prevention investigated the first known outbreak of Mycobacterium fortuitum cutaneous infections acquired from whirlpool footbaths. As a prominent podiatrist in New York City , Dr. Zong has seen countless patients who have developed infections in their feet as a result of spa pedicures.
Dr. Zong's Pedi-Do's: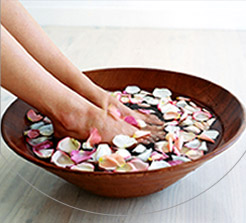 * Do ask salon workers how the foot spas are maintained and how often they are cleaned. Take notice of their actions while they are working on clients to see if footbaths are disinfected with each customer.
* Do pay attention to the time spent cleaning footbaths between customers. The disinfectant needs to work for the full time listed on its label, typically 10 minutes, depending on the type of disinfectant. It is worth your health & safety to practice patience at the spa!
* Do check your skin for infection during the days following your pedicure. Open wounds may appear on the skin of your feet and legs and can look like insect bites, but increase in size and severity over time.
* Do visit your podiatrist or primary care physician if you suspect you may have a serious infection.
Dr. Zong's Pedi-Don'ts:
* Don't get a pedicure if you have cuts or abrasions on your feet or legs. Microorganisms living in footbaths can enter through the skin and cause infection.
* Don't shave, wax or use hair removal creams within a day before getting a pedicure
* Don't get a pedicure if you have bug bites, bruises, scratches, scabs or poison ivy.
About Dr. Oliver Zong
Dr. Oliver Zong is a podiatrist in Manhattan 's influential Financial District. As one of the premier cosmetic foot surgeons in the country, he serves as the Director of Surgery at NYC FOOTCARE and is on the Board of Directors at Gramercy Park Surgery Center . Besides traditional and cosmetic foot surgery, Dr. Zong is also an accomplished cryosurgeon and co-founder of the Podiatric Cryosurgery Center of New York. He is an attending physician at New York Hospital Downtown, Wyckoff Heights Medical Center , Cabrini Medical Center , and Gramercy Park Surgery Center . Dr. Zong graduated as Valedictorian from New York College of Podiatric Medicine where he earned his degree, Doctor of Podiatric Medicine (DPM). For more information please visit www.NYCFOOTCARE.com.