Fashionable Media Review Policy: The featured product for this review was provided to me, at no cost, by the manufacturer or representing PR agency for the sole purpose of product testing. Opinions expressed are my own and are not influenced by monetary compensation.
We had the privilege of watching a new movie put out by PureFlix over the weekend. It was called, Home Beyond the Sun, which was inspired by a true story and explored the social and political realities of China today. This movie was available in stores on March 30th.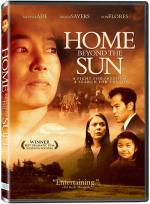 Our family really enjoyed Home Beyond the Sun. In a couple of parts the little ones got a little scared, but we had previewed it before we watched with them so we knew what scenes were coming up to explain to them what was happening etc.
Movies like this truly show us how thankful we should be for the freedoms we enjoy here in the United States. They also show how little girls are devalued and treated under some officials, but not all of them, as this movie reveals.
The quality of the movie was ok. It wasn't a Hollywood movie with billions of dollars in their production budget, but it was still well made and the actors/storyline moved me to tears.
If you are looking for a family-friendly movie with a touching story of the fight for freedom, the search for truth and a journey of faith, then I highly recommend, Home Beyond the Sun.
About PureFlix Entertainment
PureFlix Entertainment produces, distributes, acquires and markets Christian and family-friendly films. PureFlix unites some of the most respected and successful members of the Christian Film community with the objective of positioning itself as the industry leader for the production and distribution of high quality, inspiring movies and television programs, while doing so with integrity. Mission Statement: Transforming the human spirit through values based entertainment. For more information, please visit www.pureflixentertainment.com where they also have trailers to many of their movies.
"Disclosure of Material Connection: I received the product above for free in the hope that I would mention it on this blog. Regardless, I only recommend products or services I use personally and believe will be good for readers. I am disclosing this in accordance with the Federal Trade Commission's 16 CFR, Part 255: 'Guides Concerning the Use of Endorsements and Testimonials in Advertising.' "