This is a Sponsored Post written by me on behalf of Boudreaux's Butt Paste. All opinions are 100% mine.
Did you laugh when you read the title of this post? Did you wonder what it was going to be about? Then Boudreaux's maker, Blairex, did it's job in getting your attention! "Boudreaux's Butt Paste® was specifically formulated by a pharmacist with direction from a respected pediatrician to provide effective diaper rash care."
The Butt Paste has worked really well. It doesn't smell bad, as a matter of fact it is almost odorless. A definite plus.
With another commercial brand of diaper cream our son really cried when it was applied to his diaper rash, but with Boudreaux's Butt Paste he did not react negatively at all. That told us that the Butt Paste was not causing him additional pain, unlike the other brand.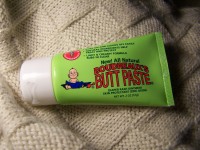 We like the fact that Boudreaux's is All Natural. The active ingredient in the Butt Paste is 16% zinc oxide. Then the other ingredients include: Aloe Vera, Beeswax, Carnauba Wax, Castor Oil, Citric Acid, Hydrogenated Castor Oil and Peruvian Balsam Oil.
Another benefit was the fact that when we apply it overnight, there is no residue left over. The Butt Paste seems to dissolve into the skin more rapidly than most other diaper creams we have tried. We also haven't noticed that it was hard to wash off, but we usually use a q-tip to apply diaper cream, not our fingers.
So we highly recommend Boudreaux's Butt Paste and our family will definitely purchase it again.
If you would like to try Boudreaux's Butt Paste out before you buy it, you can receive your own free sample by going to:
http://www.blairex.com/BLButtPaste.php All that is required is that you send a self-addressed stamped 6×9 envelope to Blairex. See Blairex's website for complete details.