Just wanted to give you the heads up that ShopCelebrityKids.com is having sale.
SAVE 20% off on everything at
Shopcelebritykids.com
with coupon code 'aprilshowers'
There are many designer outfits to choose from at ShopCelebrityKids.com. From styles that are most sought after by celebrity mom, Angelina Jolie, for her children (Dolce and Gabanna Jr., True Religion Brand Jeans and more) and outfits for mom by designer Christian Audigier that celebrities like Madonna, Kanye West, Heidi Klum and EVea Longoria have worn. Celebrity Kids also carries Meghan Fabulous clothing, as seen on Paris Hilton, plus many more.
What actually caught my eye at Celebrity Kids is Blabla Kids. What a name!? But it grabs your attention, doesn!'t it? It certainly grabbed mine. I was wondering what kind of clothing would come under a name like Blabla Kids. Blabla Kids isn't clothing though. Their products are knitted finger puppets and stuffed dolls.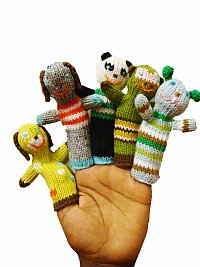 The Blabla Kids City Finger Puppets come in a set of five for $25.00.

Blabla Kids Clochette is a 12″ princess doll made from all natural fibers. Just like our grandmas made us. I know I have things like this from my grandmother and so do my children! I think you almost have to appreciate the lost arts, like knitting, to enjoy products like these. This retails for $34.00.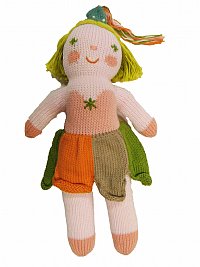 Celebrity Kids also carries the following products from Blabla Kids: Leonardo the leopard, Boogaloo, which looks like an Eskimo doll, zoo finger puppets, girl finger puppets and meow finger puppets, which appears to be an assortment of cats.