Fashionable Media Review Policy: The featured product for this review was provided to me, at no cost, by the manufacturer or representing PR agency for the sole purpose of product testing. Opinions expressed are my own and are not influenced by monetary compensation.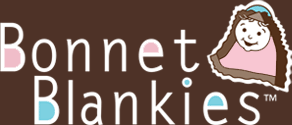 I love the story behind the Bonnet Blanket. It a sad story, but the hope and the way grief played out in the hearts of the family behind the Bonnet Blanket makes this product all the more endearing.
Story Behind Bonnet Blankie (my paraphrased version from Mandy's email)
On January 22, 2008, outside of Cincinnati, the oldest brother, of Bonnet Blankie's President, Mandy Hull, was seriously injured in a house fire. On February 22, 2008, her brother, Mike died. He was only 30 years old. Mike loved his family and they loved him. After his death, Mandy and her husband cut a piece of each of their three daughters', Mike's nieces, baby blankets, sewed them together and placed them in Uncle Mike's hands, so that he could lay to rest forever attached to his nieces. They filled the empty spaces in the girls' baby blankets with pieces of Uncle Mike's t-shirts, which they were able to save from the fire because the laundry room of Mike's house was the only part of his house not damaged by the fire.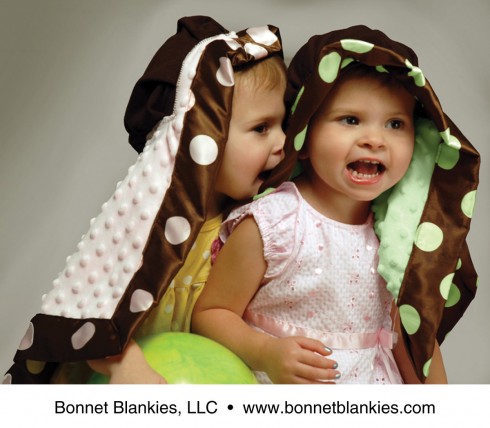 Do you know what Mandy's daughters did? They began wearing the baby blankets as hats because it freed their hands to play while keeping their blankets in tow! They received so many compliments that they ended up creating Bonnet Blankie – a one-of-a-kind baby product – in the hope that other children would find the same comfort that their daughter's found.
Our Review
The Bonnet Blankie is a soft, luxurious blanket with a silky side and a chenille-like side but is 100% polyester. Bonnet Blankie reminds me of the blankets I have see and written about celebrity mom, Angelina Jolie's children carrying in so many of the celebrity photos we see in the news. Just the look of it with the dots and this blanket is as I imagine the Little Giraffe Blankets would be, but I cannot verify that since I have not yet seen or held a Little Giraffe Blanket in person.
Our two youngest boys found the Bonnet Blankie a great costume addition to their acting out playing Egyptians! I can see our little ones using it as a "shepherd" hat too.
The Bonnet Blankie is machine washable, in warm water on the gentle cycle and may be tumbled dry on low. The blankies retail for $34.99.
Bonnet Blankie's Charitable Cause
In honor and remembrance of Mike Martinelli, a portion of proceeds from the sale of Bonnet Blankies will be donated to the Cincinnati Shriners Hospital or ChildrenT. According to Mandy, Mike was a special person who gave everything and never expected anything in return; he would have wanted children with burn injuries to have an opportunity to enjoy a better quality of life. His love for his three nieces was indescribable. They were his pride and joy.
Please visit www.BonnetBlankies.com They have a Spring Special:
Use Coupon Code BABY1001 to get the Special Spring Pricing of $29.99.