I recently had the opportunity to have a Q & A session with Katherine Venzke (KV). She is founder and proprietor of Helena's, a women's clothing boutique located in Arlington, MA.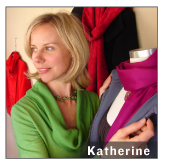 TFB: What are your 10 must-buy pieces that will bring peace of mind to the "what-to-wear" morning routine?
KV: At some point all newly pregnant women come to a point of frustration with their wardrobe. This usually hits critical mass when they can no longer fit into any of their pre-pregnancy pants. There are key pieces that start to build a workable wardrobe. 2 pairs of jeans that you love. One boot-cut to wear with snug-fit jersey tops and one "skinny" jean to wear with longer tunics. These can be overbelly or underbelly styles, just make sure they are super comfortable. 1 pair of great fitting black pants in a twill or stretchy poplin. (If you have a more dressy professional job, get another pair in charcoal or brown.) 1 pair of black leggings, either underbelly or overbelly. 1 great denim or twill skirt. 3 knit tops each with some stylish embellishment: a twist at the neckline, a ruffle at the collar or button on the sleeve. 2 open cardigans. These would be sweaters in the cooler season and lighter knits in the warmer weather.
Once you have these foundation pieces, branch out. Get some print tops that you love and you know you can wear post-partum.
TFB: What are some quick fix accessories that can extend the life of a favorite pair of jeans through the first trimester?
KV: There are two great fashion accessories that can help bridge the gap between wearing your pre-pregnancy jeans and your maternity jeans. One is the B-buckle which laces through your belt-loops and extends the button-reach of your jeans. It is great for those early weeks of pregnancy. Another is the BellaBand which is a stretchy tube of cloth that covers your belly and masks your unbuttoned pants. This accessory is beloved by pregnant women and is often worn far into pregnacy with maternity jeans and after pregnancy to pull in a post-partum belly.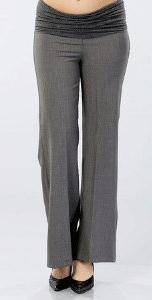 TFB: For those working in the professional world, what office attire creates a crisp and professional appearance, right up until maternity leave?
KV: My favorite professional maternity look is a pair of charcoal maternity pants, a button up blouse in white, navy or light blue with a tailored cardigan. Maternity jackets are available, but hard to come not always practical on a growing belly. Inca Mama and Ripe Maternity both design beautiful sweaters that serve as a great replacement.
TFB: What are some dressing tips for more fromal events for weddings, galas, and other black-tie events – without breaking the bank?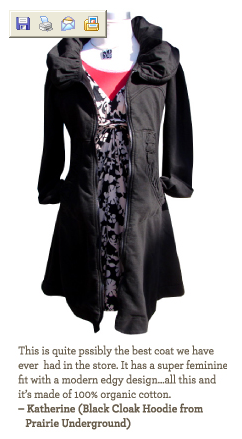 KV: If you have several formal events, buy one or two great fitting dresses in a solid color. Olian makes a fantastic ruched front black dress that is open to any accessories to dress it up or down. Navy blue and forest green and wine are also great colors if you are looking for a dress that can transition from one event to the next. One of our most popular dresses at the store is a black dress with a beaded, highly embellished belt that sits high on the belly just below the bust. Several customers have raved about it's versatility. If it is *your* baby shower however, get whatever dress you want, in a beautiful print or bold color. Make it special, it's a celebration of your upcoming motherhood.
TFB: What suggestions can you offer to women to wear and what to buy after baby arrives?
KV: As much as you may be tired of your maternity pants, they will fit in those early post-baby weeks, and you should wear them. Any easy waist pants like leggings and roll-over knit pants will also be comfortable and flattering. Colorful tops are a great purchase for new moms. We frequently help nursing moms to find a great top with a cross-over neckline that fits their expanded bustline.
TFB: How can we honestly assemble a wardrobe that will make us feel more confident, happy, and connected to our personal identity and sense of self
while gaining weight we don't know if we will ever lose? We all want to enjoy our pregnancies guilt-free, but let's be honest and say that those that do are probably in the minority.
KV: Pregnancy is about transition both in life and in body. If you are a woman who loved clothes and fashion pre-pregnancy you can find the pieces that fit and flatter your new shape. I believe that with the right connection with a maternity store, a pregnant woman can have a great experience building a wardrobe she loves.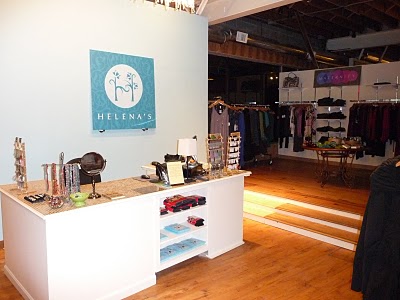 Thank you for taking the time to chat with us.
Katherine Venzke is founder and proprietor of Helena's, a women's clothing boutique located in Arlington, MA. Helena's was originally conceptualized as a source for fashionable, colorful women's separates, designer denim, and accessories. The store has also become a destination for moms-to-be thanks to their award-winning maternity collection. Katherine lives in Lexington with her husband and three children. www.HelenasofArlington.com
And be sure to check out their blog too since they have plenty of photos of clothing and accessories http://helenasofarlington.blogspot.com/