If you haven't heard of this new campaign yet, we are happy to be the first to announce….Casual Fridays Has a New Sister: "Makeup Free Mondays" are here! I meant to get this posted yesterday, but it just didn't happen, so maybe you'd like to participate next Monday since you'll have the week to think and act on what you are going to read below about the new "Makeup Free Mondays". But perhaps you have heard of it since last Monday, Kathie Lee Gifford and her co-host, Hoda on NBC's morning show went "Au Naturale" – that's when I first heard of this new movement. Other celebrities getting on board with this are: Jessica Simpson, Heidi Klum, and Kim Kardashian.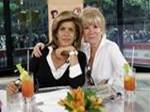 TheBeautyBean.com Launches a Movement to Encourage Real and Inner Beauty and Support Local Women's Programs
The Beauty Bean, announced this month the commencement of their "Makeup Free Mondays" movement, the beauty and wellness E-zines latest effort in their mission to remind women of the importance of real and inner beauty, promote better body image, prevent eating disorders and encourage conversations about the unrealistic body ideals currently promoted and prevalent in the United States. Beyond foregoing makeup on Mondays, The Beauty Bean also encourages women to donate unopened, fresh makeup to their local women's shelter, Dress for Success or similar women's program.
Says founder Alexis Wolfer, "Here at The Beauty Bean, we all obviously have a deep love for our makeup and beauty goods. That being said, we ultimately value inner beauty and wellness considerably more than we do our smudge-free mascara. This Makeup Free Mondays movement is our way of letting women across the country express their support of these commitments in their own lives, in a tangible way while giving back to other women in their communities."

How to Show Your Support
Alexis & The Beauty Bean assure women nationwide that participating in Makeup Free Mondays is simple, and they've laid it out below, along with how women can use this action step to encourage bigger steps towards, and conversations about, more realistic body image and beauty ideals in the United States.
1. Don't wear makeup on Mondays (or use less for those who need to do this in baby steps).
2. Stop apologizing for not wearing makeup, no matter what day of the week it is.
3. Organize official Makeup Free Mondays at your school, place of employment or with your friends.
4. Encourage conversations about real beauty and better body image within your own families and friendships.
5. Share your photos with TheBeautyBean.com via Facebook and on Twitter @thebeautybean with the hash tag makeupfreemondays
6. Donate unopened and unexpired makeup to your local women's shelter, Dress for Success chapter or similar women's program. Though TheBeautyBean.com focuses on inner beauty, they know that the confidence a polished look can give is something all women deserve.
Visit http://thebeautybean.com/site/beautify/makeup-free-mondays-how-you-can-show-
your-support-for-casual-fridays-new-sister/ for complete details of how you can be involved.