Fashionable Media Review Policy: The featured product for this review was provided to me, at no cost, by the manufacturer or representing PR agency for the sole purpose of product testing. Opinions expressed are my own and are not influenced by monetary compensation.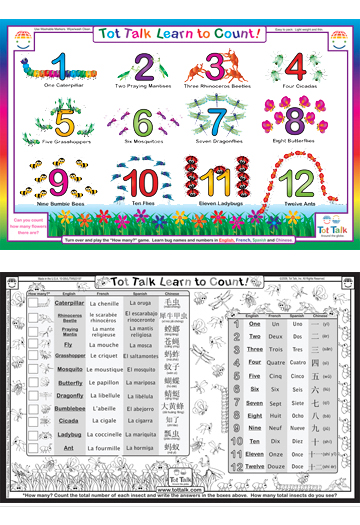 We received the Tot Talk Learn to Count placemat to make mealtime an educational opportunity and fun too. As you can see from the above photo, it has a cute design with the front featuring 12 different insects an a corresponding number to represent the amount of insects for that number. – 1 Caterpillar, 2 Praying Mantises, 3 Rhinoceros Beetles, 4 Cicadas, etc. On the backside of the placemat there is the English, French, Spanish and Chinese words for each of the insect names and a little box for children to write in the correct number of insects that they count and even color with wipe off makers or crayons. It also features numbers 1-12 in all four languages too.
Our 4 year-old daughter really likes it. She likes hearing the different languages, well, at least the ones that we know how to pronounce like English, Spanish and French. We are not familiar with Chinese. Even our 2-year-old will join us when we are going over the insect names, counting and saying the numbers in the different languages – All the while trying to say them with us!
We are very happy with Tot Talk product we received. They not only offer a variety of educational placemats but other educational materials too. Visit www.TotTalk.com for more information and details.