Mary Beth is the Co-Founder and VP of Apparel for FashionPlaytes and has over 20 years of experience in producing private label apparel for well-known international brands. At heart, she is an artist and a fashion designer. With summer fast approaching, warm weather fashion is on the minds of many moms and their daughters. To provide some guidance for moms of fashion-obessed youngsters, children's apparel expert and Co-Founder of FashionPlaytes, a virtual design studio for girl 5-12, Mary Beth Tirrell is offering a quick trend overview for moms and daughters before they hit the racks.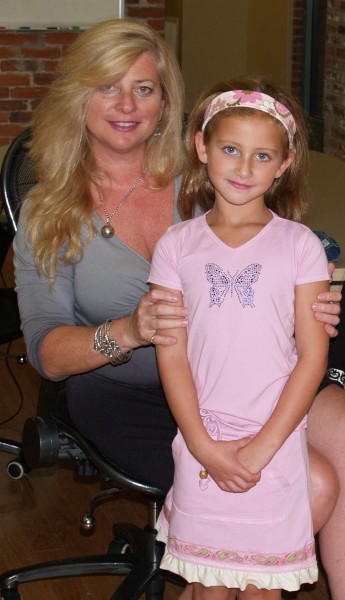 The following is Mary Beth's breakdown of the top summer fashion trends for tween girls (above is a picture of Mary Beth and her daughter Phaedra, who is wearing a FashionPlaytes outfit that she designed herself) :
– Hawaiian Style: Go tropical chic with vintage surf graphic looks from old Waikiki. Designers and surf brands will be showcasing old school styles from the Aloha state, and this is a fun and sporty look that is accessible for all ages.
– Ombre Color Schemes: This "mono-hue" palette trend will be very popular this summer, and can also extend into building color themes with outfits as girls create their own "ombre stylized" ensembles. For example, try pairing royal blue capri pants with powder blue sleeveless shirt and navy blue cotton cardigan – then continue the fun with jewelry and accessories. The key is sticking to the same color family.
– Sailor: Salute to crisp whites paired with striped tee's and nautical themed graphics and appliqués. Style the ensemble with a ponytail secured with a bright ribbon, and complete the look with cool white sunglasses.
– Feminine Details: Pretty eyelet and lace trim will sweeten up any summer look. Look for these details on everything from fancy party dresses to a lace-trimmed tank top to add some girliness when paired with a favorite pair of denim shorts.
Visit www.fashionplaytes.com to check out their design studio and to learn more about FashionPlaytes.