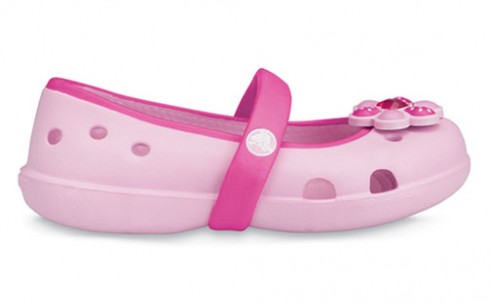 Crocs Bubblegum / Fuchsia Keeley Shoes
We all know that Crocs are cute on kids, but I'm especially partial to the adorable Keeley Shoes. I was lucky enough to get a pair for my daughter to review here on The Fashionable Bambino and I'm happy to have the opportunity to tell you all about these.
My daughter is almost 3 years old now and starting to get pretty independent. This makes for a fussy little fashionista that always has an opinion about her clothes. Luckily, these cute little shoes passed the test and got her seal of approval.
She is very vocal about her footwear and if it's starting to get too small, her socks are uncomfortable, they rub in the wrong place or anything like that, she definitely lets me know. I can't tell you how many times we've been all ready to walk out the door only to have to come back in to change her shoes! So when she took these shoes for a test drive the first time, I was anxious for her opinion. I was afraid they might rub and give her blisters so I made sure her first trip out in them wouldn't require a huge amount of walking – just to the grocery store. Thankfully, she loved them. She kept looking down at her feet and smiling, telling me about her 'new shoes'.
Needless to say, a few weeks later and she's still loving her Keeley shoes. We got them in black so they go with almost everything, but I'm thinking of getting her another pair in pink to go with all her summer dresses. She definitely thinks they are comfortable and she's never complained about them once.
If she wears them with bare feet, sometimes I sprinkle a little baby powder into the shoes first just to make sure they don't get sticky and damp. However, after wearing a pair of Crocs myself for the past few weeks, I've found that despite logic, your feet don't get sweaty in Crocs. Amazing!
You can get the Crocs Keeley Shoes
in black, pink, purple or fucshia on Crocs.com for $24.99.
You can also find more kids Crocs as well as the Crocs Keeley style on Zappos.com
, Endless.com
, Shoemall.com
and Amazon.com
.