I thought this next post would be a good topic to feature since most women are concerned about wearing stylish footwear. Many celebrities get raked over the coals for any of their fashion "bloopies". As moms, we also want our footwear to fit and be comfortable, after all we are usually running after a toddler or preschooler, right? You don't need to own 100 pairs of shoes to understand fashion or comfortable shoes. Dr. Raj is going to talk about summer shoe woes because I know all of us have shoes that we love, but are plain uncomfortable….they look good, but they feel bad. Let's see what he has to say about our flair for fashionable shoes:
TFB: Dr. Raj, what are some common ailments you see because of bad footwear?
Dr. Raj: The most common issues are hammertoe, bunions and callous due to horrible fashionable shoes that are high heeled, narrow soled. Our feet are meant to breathe and have room so our feet start deforming to the contour of the shoe and we start forming callouses which scar. All of this leads to painful ugly feet over time.

TFB: How can we ward off summer shoe woes?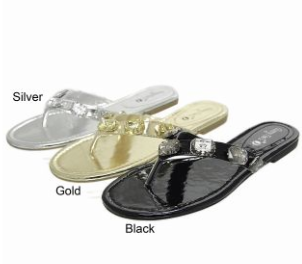 Photo credit: Overstock.com
Dr. Raj: Believe it or not by wearing Flip Flops – They are cute, padded and can be stylish and they allow your feet to breathe.
TFB: Could you briefly tell us how you became so interested in foot care and why you have such a keen interest in the health of feet?
Dr. Raj: As an orthopedic surgeon I treat all different kinds of disasters and amongst that population are people who want to look good with great shoes…imagine taking your hands and compressing them for 4 hours and then walking on them…After years or months you are going got have ugly painful hands…Feet are the same. As an orthopedic surgeon we can prevent foot issues by simple education.
TFB: What are some do's and don'ts when considering the health of our feet and our sense of fashion?

Dr. Raj: Narrow shoes, 6 inch heels are no good all day…wear them as limited as you can and then wear flip flops.
TFB: And just how harmful are those sexy sandals and slinky summer heels to our feet?
Dr. Raj: Summer is a time where we want sleek and sexy…Remember you can look sleek and sexy, but be moderate…wear your fashionable shoes on the "red carpet", but have flip flops in your bag for the next three hours if you need to.
TFB: What are some of the best and worst summer shoes for our health?

Photo credit: Pink Stiletto Shop
Dr. Raj: 6 inch Stilettos – Sexy but killers. As I have said, the best is padded flip flops or sneakers.
TFB: If we compromise our feet for our flair for fashion, what are some long term health affects we could face?
Dr. Raj: Surgery and redo surgery…Bunion reoccur…pain in your feet can prevent you from walking and lead to weight gain, depression etc.
Thank you for your time, Dr. Raj.
About Dr. Raj
Dr. Raj is an expert on sports injuries, bones, joints, knees, muscles and more. He is Double Board Certified Orthopedic Surgeon whose clients range from celebrities to the elderly to sports athletes. Dr. Raj has been featured on Spike TV, The Doctors and in The Globe. He is a great resource for all health and medical stories. Visit him on the web at: www.drhipandknee.com