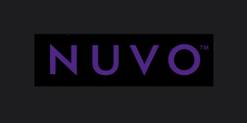 Here's a bit of fashion news for all of you America's Got Talent fans. A new men's designer label is set to launch at select Nordstrom stores next month and Nick Cannon has been spotted wearing this specific label. This celebrity fashion news is a sure sign of this new brand of men's clothing being a hit. My husband even comments on how well dressed Nick always is and has stated that he liked some of Nick's suits. Maybe this is another anniversary gift idea for my hubby…hmmm…
Read more…
Even before its September launch, NUVO has struck a chord with Hollywood. A new level in men's designer tailored clothing, NUVO is a brand for today's modern man who appreciates fashion, great design and superior materials.
Nick Cannon, host of the NBC summer-hit series "America's Got Talent" has been wearing several NUVO suits including last night's 2-piece windowpane with peak lapel and matching flat front trousers even before the collection launches at retail in the fall.

NUVO is defined by a structured silhouette and contemporary detail without compromising comfort and style. Suits made from lustrous fabrics imported from European mills (including wool/cotton or linen/cotton blends) many with stretch for enhanced fit give the collection its structured shape.
The collection, consisting of 2 and 3-piece suiting, sports coats and trousers, all made in the USA, answers the demands of the discriminating man.
NUVO will be available exclusively at select Nordstrom stores starting in August.