Fashionable Media Review Policy: The featured product for this review was provided to me, at no cost, by the manufacturer or representing PR agency for the sole purpose of product testing. Opinions expressed are my own and are not influenced by monetary compensation.

Berry Ball
The Berry Ball is the "Innovative Bra Washer". It is a complete bra & panty cleaning solution set. It is the "Bra Saver" that keeps your bra's shape.
Product Description:
The NEW Berry Ball & Bag from Berry Perry is a complete care solution set for lingerie that lets you wash your bras, panties, hosiery, socks even swimwear in the washing machine. Say good-bye to tangled and crushed bras, stretched and twisted hosiery, snagged bathing suits, and lost socks! The Berry Ball & Bag saves you valuable time by letting you wash your lingerie & swim in the washing machine, while yielding a delicate, hand wash result. The product is also great as a packing tool to prevent bras from being crushed during travels, as well as a convenient storage tool to keep bra cups in-tact.

Included is also a laundry bag (The Berry Bag) which can be used to wash panties, socks or lingerie. The perfect cleaning solution!
Retail Cost: $13.99
My Review
I have tried to allow for a long enough time to test and try this product, using it a total of three times but perhaps that is not long enough to see how well my under garments retain their shape. Or maybe it is better to try on a brand new bra that way I could definitely tell if the Berry Ball helped retain the shape of it compared to the old way of washing my "unmentionables". Therefore, I cannot fully attest to the claim that it helps retain the shape and support our bras are meant to give us. Sorry! I can attest to the fact that it does prevent twisted bras. They are still wrinkled but are not twisted around other clothing or the agitator of the washing machine!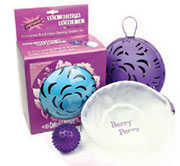 This product is not meant for the dryer, the box says "Washing Machine Only". However, one of my daughters did toss it into the dryer once and since it is plastic it did start to melt the little loop that can be used to hang the Berry Ball up with in the laundry room or closet. Otherwise it faired that mishap very well!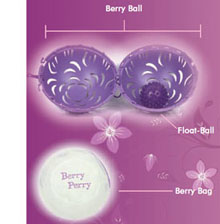 The Berry Ball comes in two sizes: small for sizes 32-36A, 32-36B, 32-34C, 32D and large for sizes 36-38B, 34-38C, 32-38D. Although, it seems pretty roomy since it fit a larger piece of lingerie in it. It is also available in three colors: pink, blue and purple.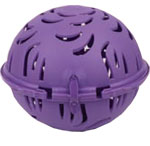 I can say that as a person who still enjoys her privacy once in a while in a houseful of people, I like the Berry Ball, especially the Berry Bag. I think both are very useful products that have proven to effectively wash and protect my bra and lacey nightie that I washed in it.
More information may be found at www.BerryPerry.com