Fashionable Media Review Policy: The featured product for this review was provided to me, at no cost, by the manufacturer or representing PR agency for the sole purpose of product testing. Opinions expressed are my own and are not influenced by monetary compensation.
My daughter recently received some product from Alabu Natural Products for the Skin and as we have shared before with other Goat Milk Soaps we have tried, we really these products a lot.
Alabu Natural Products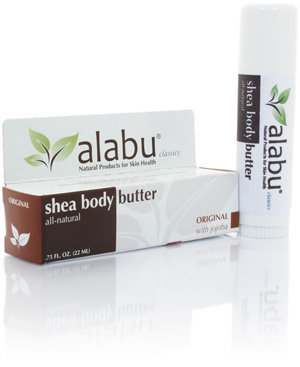 Organic All Natural Shea Body Butter: This Shea Body Butter actually helped the eczema on my daughter's arm. Whenever she used it, her eczema faded. Now it didn't completely go away, but it definitely improved. We really like all natural products, especially if they are really all natural.
The Shea Body Butter comes in two kinds of 'scents'. The product that type we received was the Original with jojoba oil. The other scent is: Tea Tree. It is definitely really nice for dry skin when you don't have any hand-cream in the house or after a shower! It is priced at: $4.90 for Original but the Tea Tree is priced at $6.90. Very reasonable for all natural Shea Body Butter.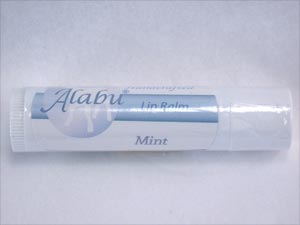 Organic All Natural Lip Balm: The lip balm comes in 3 different flavors. We received mint. We liked the scent and "flavor". It does help chapped lips, but we did not see any big differences in the condition of our lips. It was still a nice lip balm. The scents are: Mint, Tea Tree, Vanilla, and Natural. They are all priced at $3.50.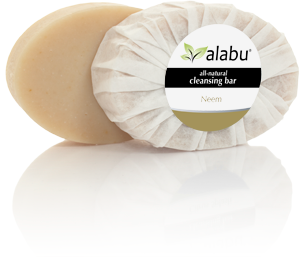 Organic All Natural Neem Essential Oil Soap: Neem oil contributes conditioning properties and a wonderful lather to this soap, making it a good choice for dry and problem skin. The neem oil is not added for the great scent (it actually smells terrible, and they add lavender essential oil to help tone down the scent). It's in the soap because it's great for your skin. Just be forewarned: don't judge it for it's smell! My daughter thought it smelled like lavender and it didn't smell that bad to me. The soap made our skin feel very soft. We attribute that to the goat milk! Priced at $6.30.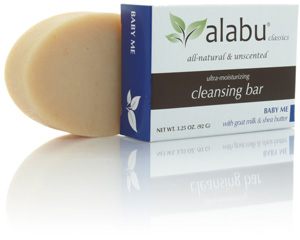 Organic All Natural Baby Me Ultra-Moisturizing cleansing Bar:This soap's name says it all! 🙂 It too makes the skin feel soft and silky! It smells nice and it was my daughter's favorite of the two soaps. It lathered nicely and is recommended for anyone with extra sensitive skin. This is the soap my daughter found made her hands very soft after working in the garden all day. She doesn't wear gloves like I do! It is reasonably priced at: $5.15
We'd highly recommend Alabu products.
A Brief History:
After making goat milk soap for a home-school chemistry project, we quickly realized how drying and harsh commercial soap was to our skin. We found that handmade natural soap (made with the "cold process" soap method) retains the naturally occurring glycerin that is very beneficial to your skin. Family and friends told us how our soap was a great skin care product, and how it did not leave their skin feeling dry and itchy like commercial soap did and helped with their eczema treatment. That is when Alabu Soap was born. Now we have retail and wholesale soap customers world wide." (Editor's Note: the Alabu company was founded by a Christian homeschooling family.)