After a recent study by Pediatrics that found that children are at an increased risk for health problems when chemical-laden cleaning products are in the home, your readers may be looking for a solution to cleaning pollution.

Earth Friendly Products, (www.ecos.com) makers of all-natural, green cleaning products for more than 40 years wants to give several lucky parents the chance to makeover their children's classrooms or dorm rooms with all-natural cleaning products, as part of the company's continued Safeguard Your Home! campaign.
To enter, simply visit Earth Friendly Products Facebook page, "Like" the page and leave a wall post explaining why the child's classroom or dorm room can use a free supply of eco-friendly cleaning products from EFP, including:
* ECOS Laundry Detergent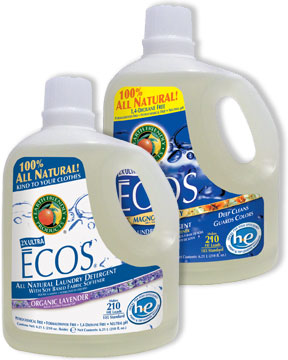 * Dishmate Hand Dishwashing Soap
* Wave Autodishwasher Detergent
* Eco Breeze fabric refresher
* Window Cleaner
* Parsley Plus all-purpose cleaner
This giveaway ends today, so if you really want to enter do it now while it is fresh in your minds before it's over!

Every Day Household Products Can be Deadly for Children
– Earth Friendly Products urges parents and schools to rethink harsh chemical cleaners at back-to-school time –
Earth Friendly Products (www.ecos.com) urges parents to think about the products they use as they send their kids back to school. Everyday cleaners, those used to launder school uniforms, clean lunch boxes, sanitize school supplies and toys or even freshen the air, contain dangerous, toxic chemicals, many of which are deadly if swallowed. Even the products used to clean school classrooms are harsh chemical cocktails with noxious fumes.
In an ongoing effort to drive awareness of the products that are brought into homes by unsuspecting consumers across the nation, Earth Friendly Products, a leading maker of all-natural, eco-friendly cleaning products, is re-launching its "Safeguard Your Home!" online campaign on the company's dedicated Facebook page, but with a back-to-school twist. Safeguard Your Home! is a nationwide program to push families to rid their homes of lethal household cleaners and Earth Friendly products is extending the campaign to encourage parents to protect themselves and their children from the health dangers that toxic cleaners pose at schools and in dorm rooms.
To participate in the back-to-school campaign, Earth Friendly Products fans can visit www.facebook.com and "like" Earth Friendly Products. Once a fan, users are encouraged to explain on the Earth Friendly Products wall why their classroom or dorm room needs a green cleaning makeover. Everyone from teachers, students, parents, professors and caregivers are encouraged to tell their stories on Earth
Friendly Products Facebook page. All participants will be entered to win free, full-sized Earth Friendly Products samples. The prize packs include ECOS Laundry Detergent, Dishmate Hand Dishwashing Soap, Wave Autodishwasher Detergent, Eco Breeze, Window Cleaner and Parsley Plus all-purpose cleaner.
"Whether preparing a young adult to go to college or sending a five-year-old off to kindergarten, parents should be aware of the products their children come in contact with on a daily basis," said Van Vlahakis, CEO of Earth Friendly Products. "Recently it has been reported that cases of children being poisoned by household chemicals has risen and the time has never been more apt to change the way we clean. Avoiding harsh chemicals can also prevent a slew of respiratory ailments, not to mention accidental chemical burns from contact with the skin."
In August, it was reported by Pediatrics magazine that each year, nearly 12,000 are rushed to the emergency room after ingesting chemicals from household cleaners from ammonia to bleach. For a small, but startling percentage of children, this brief contact with chemical-laden cleaners results in life-threatening symptoms and, in some cases, long-term disabilities. To date, little has been done to change the dangerous compounds that threatened people's health and the planet and Earth Friendly Products is set to change it.
Readers who would like more information about Earth Friendly Products should visit www.ecos.com .
Earth Friendly Products is the leader in the development and production of environmentally friendly cleaning supplies for household and
commercial use with over 150 products manufactured, distributed, and sold in the USA, Canada, Europe, South America, and Asia. All Earth Friendly Products are created with only replenishable and sustainable plant-based ingredients that are safe for people, pets, and the planet. The company proudly adheres to its strict "Freedom Code", a list of harmful and toxic ingredients that are not found in any its products. Earth Friendly Products has proudly received the 2009 Green Patriot (TM) Green 100 (TM) Designation and the Champion level recognition from the US EPA through the Design for the Environment (DfE) Program's Safer Detergents Stewardship Initiative.