Got this in with some celebrity fashion news and thought it was interesting enough to share….
Celebrity-clad awards ceremonies have long been setting trends for upcoming fashion seasons. This awards season is no different. At the recent Video Music Awards and last week's Emmy Awards, red carpet-spectators were treated to a host of sexy, slick, and
sophisticated styles, with special attention to shoes and accessories. Best of all, the awards shows marked the beginning of some spectacular fall trends which you can pull off without the flashy gown! Below are some of the fall looks favored by Drew Barrymore, Heidi Klum, Emily Blunt, Rihanna, and other stylish celebs:
Sequins
The sequins that shone through summer are still with us for fall. Follow Heidi Klum's lead when taking on this bold fall look:
* Invest in "all-occasion" sequins. Black, bronze and silver look great with just about anything!
* Pair sequins with denim for the ultimate in cool fall looks
* If you're too conservative for a skirt or top made entirely of sequins, look for pieces with sequin accents, like a clutch purse or some peep-toe pumps like the Style No. FY 016 E by Luiza Barcelos, $268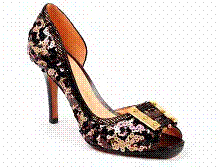 Metallic
To get the most out of your metallic look, make sure to follow these golden rules:
* Pay close attention to the fabric. You don't want your item to look like a roll of aluminum foil!
* For a daytime look, pair your silver accessories with soft gray-colored clothing and your golden accent pieces with khaki or pale rose, like the Clutch Malha in Metal Gold by Ira Salles, $318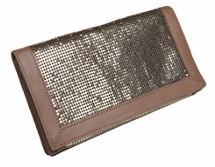 * Metallic embellishment can jazz up any day or evening ensemble. The shimmery style looks great worn from head-to-toe or simply as a fun accessory. Have fun with this trend!
Python
Exotic skins are a big trend for fall and none is none is more striking than python. Take the cue from Emily Blunt when picking out the perfect pieces for your closet:
* Animal-inspired items are all about making a statement, but choose wisely. You don't want to end up looking like a walking zoo!
* For the perfect python look, keep it classic with neutral colors like black, nude, or grey. The Winner shoe by Cavage, $668, is a perfect investment because you can pair them with several different outfits!
Known for its impeccable quality, the Cavage brand was created in South Brazil in 1998. Within its boutique factory, every shoe is made by hand and tried for an exact fit, further accentuating the company's attention to detail and zeal for well-made products. With leather, python and other fine materials purchased from the best producers in South America, Cavage is one of the very few brands whose shoes come with a certificate of authenticity and a handmade stamp. Available online at www.citysole.com.
About IRA SALLES
As a graduate from Parsons The New School of Design in New York City, Ira Salles began her career working in the couture studio for Carolina Herrera. Then, what started on vacation in Brazil in 1999 turned into a full career for Salles. Selling at more than 50 locations in Brazil and 40 locations abroad, Ira Salles designs unique and stunning crochet handbags. Each bag is individually hand crafted with the perspective of keeping them all fun and sexy. With each bag reflecting a new approach to women's accessories, Ira's passion continues to provide fine quality, one-of-a kind pieces to consumers around the world. Please visit www.irasalles.com.br for more information.
About LUIZA BARCELOS
Founded in 1989, the Luiza Barcelos shoe company's mission is to offer high quality, stylish footwear for women. After two decades, this family owned and operated business is one of the most respected brands in the accessory world of Brazilian Fashion. Inspired by art, simplicity and culture, Luiza Barcelos brings confidence and style back to the everyday life of women everywhere. Available online at www.endless.com.