This article was originally written by Ashley Dowse and appeared in the Lexington Patch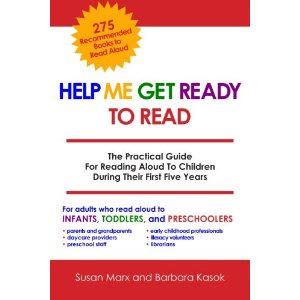 November is National Literacy Month, which is a good time to think about helping your child to develop a love of reading.   The new book  Help Me Get Ready to Read by Susan Marx and Barbara Kasok  is a how-to guide  parents and caregivers can use  to approach reading with children from birth to age 5.
Many adults understand the importance of reading aloud to their children, but do not always make the connection between reading aloud and getting children to read.  The book discusses the necessity of engaging children – from birth – in the reading process.  The authors say doing so will help close the achievement gap for children entering kindergarten.
"Reading aloud during the first five years of childrens' lives opens their ears to the sounds of words, their eyes to the wonder of pictures, their minds to new ideas and their hearts to a love of books and learning," Marx said. 
Help Me Get Ready to Read is a tool for parents and caring adults, and combines the rewarding experience of reading with a child with more interactive approaches, Marx said. The book introduces strategies such as "talkabouts," book-related activities that teach phonological awareness, comprehension, vocabulary, letters and their sounds, and print concepts while reading aloud with the child.
There are also follow-up activities such as Act and Play, Say and Sing, and Draw and Write, which incorporate more visual and touch/experiential connections into the reading process.
Help Me Get Ready to Read also includes a list of 275 age-appropriate books, each with a short summary and type of strategy, giving parents and caregivers a comprehensive list of books from which to choose.
Marx and Kasok suggest that for infants through children age 2, parents should look for books with colorful pictures. For 3- to 5-year-olds, books with story elements can be read, introducing the child to characters, story elements and determining whether a story is real or make-believe.
"A positive reading environment is one that includes a positive attitude towards reading," Marx said. "It creates a nurturing environment to foster learning, by making reading part of the daily routine and giving 'positive parenting praise' to the child when they acquire a new skill." 
With any child, Marx stresses the importance of knowing a child's abilities. If a child is unable to sit still for an entire story, she suggests reading to a certain page and continuing later.
Another good strategy, she said, is to do a picture walkthrough, using only the pictures to tell the story for the first time. A book basket can be a good way to empower the child by allowing them to make the decision for themselves.
More information on Help Me Get Ready to Read, and workshops hosted by the authors, can be found at their website, www.readaloudguide.com.