Fashionable Media Review Policy: The featured product for this review was provided to me, at no cost, by the manufacturer or representing PR agency for the sole purpose of product testing. Opinions expressed are my own and are not influenced by monetary compensation.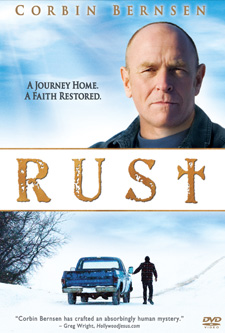 Rust is another family friendly movie. Our children didn't really like it quite as much as the others we have viewed in recent months. Our oldest says that she didn't like it because it was about a fire and the mystery surrounding it. She thought it was scary, which I didn't realize until I was asking her about her thoughts just now!
This movie was of a more serious nature that perhaps some parents will want to preview before they let little ones watch. RUST is about relationships – between family and friends. The main character (Corbin Bernsen) is a former minister who returns to his hometown after being absent for many years. Little by little he realizes something isn't quite right about the story involving his childhood friend. When everyone else in the small town is quick to judge, he's willing to dig deeper into the events surrounding a very tragic event that sent many towns people reeling in shock and grief.
When people are different than us are we quick to judge and believe the worst, or are we willing to look past idiosyncracies and see them for who they really are? This is a powerful story about relationships, loyalty and acceptance even when others don't agree.