Fashionable Media Review Policy: The featured product for this review was provided to me, at no cost, by the manufacturer or representing PR agency for the sole purpose of product testing. Opinions expressed are my own and are not influenced by monetary compensation.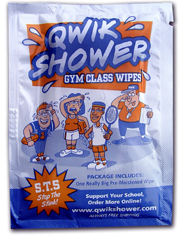 We received a couple of sample packs of QwikShower wipes to try. They are the size of a large piece of paper towel (10′" x 12″) , believe it or not. They are not as thick as some baby wipes we have used, but they are not as thin as the "off" brands either. They have a bit of texture, are plenty wet and are compact, fitting in a pocket very easily. However, I did not really care for the smell of them and am not sure if I would use them on my body. I actually used one package to clean my hands and then cleaned the dash of our van yesterday while we were out and had forgotten baby wipes. It worked well as a cleaning rag.
I can see how they would be handy to athletic kids on the run from one activity to another, so the QwikShower wipes are in interesting concept.
This product is available for purchase (a little pricey) online at www.Qwikshower.com – 1 for $1, 10 for $7, 50 for $29 and 100 for $49.
Here's a concise product description:
QwikShower Wipes are a must-have for active children and pubescent tweens and teens who get soiled, sweaty, stinky and self-conscious. These portable single-use disposable washcloths offer an easy, convenient and economical way to help kids get clean and eliminate embarrassing grime and body odor after gym class, sports, outdoor play and other physical activities.

QwikShower Wipes are also great for adults for use after the gym, a jog, when traveling, during a long shift at the office, or even after work en route to another engagement.
About My Kids Stink, LLC
Based in Olney, MD, My Kids Stink, LLC was founded by Harvey Metro, a father of three active boys who loathed smelling the half-dozen stinky and sweaty teens who crammed in his car after school, practices and games. This ongoing problem prompted Harvey to create QwikShower Wipes; an affordable, environmentally friendly portable shower alternative suitable for kids and adults, alike. For more information about QwikShower Wipes visit www.QwikShower.com