Brooke Burke's Holiday Tips (Full list available on BingHoliday.com)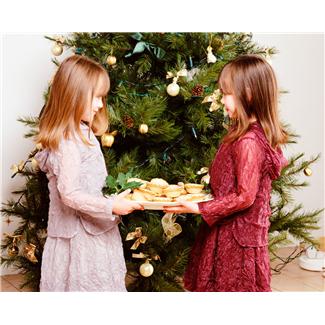 * Holiday Cooking:
Cooking for large groups of people can be tough. Make sure you think about your audience before selecting a dish. For example, that Chilean sea bass with the saffron risotto you had planned? It might be a little too sophisticated if you have young children in the group. My go-to meals are chicken fried rice and spaghetti and meatballs.
* Holiday Traveling:
If you plan on traveling during the holidays, you should plan ahead and book in advance to keep costs down. Prices usually are much higher during this period, as people have off of work and school. One of my secrets is to book vacations for shortly after the holiday season. You can often find great deals and resort areas will be less crowded, perfect for family getaways.
* Gift Ideas:
If you're struggling for that perfect gift this holiday season, here are some of Brooke's favorites and recommendations:
Brooke's top gift picks:
1. 'Christmas Cheers' by Straight No Chaser
2. Bliss Body Butter
3. Danya Decker candles
4. 'It's a Wonderful Live' DVD
5. Sing-a-ma-jig toy
6. Flip Mino HD video camcorder
o Gifts for Dads: Does Dad need a new phone? Windows Phone 7 provides the latest and greatest in smartphones, with one-touch search and Bing Local to help you find restaurants, stores, and other landmarks wherever you may be.
o Gifts for moms: It's no secret that the holidays can be stressful, especially for busy mothers. Why not pamper mom with with home spa products. Try Bliss Body Butter and some fine candles made by Danya Decker, Kai, and Voluspa.
o A Gift the Whole Family Can Enjoy: Sometimes what our family needs is the gift of travel – Use my tips to find great deals on everywhere from Disneyland or NYC and create a gift package to surprise the family
o Budding Chefs: Do you have a family chef that loves to cook? Give a family recipe book featuring recipes from Bing
o Little Kids: Need something for the little ones? Try Hallmark's Recordable Storybooks. My kids love them!
o A Little Older: The cutest toys I've seen for kids are the Sing-a-ma-jigs! Just absolutely adorable and fun for the whole family.
o Moms: The holiday season can be pretty hectic, especially for Mom. A little R&R can certainly do the body good. Check out the Bliss Body Butter/Voluspa candle home spa package.
o Grandparents: What do you get for a grandparent that has seen it all? You can't go wrong with picture frames with personal photos/child artwork. What grandparent doesn't love photos of their grandkids?!
o For Travel Lovers: For an even bigger treat for your family this holiday, Brooke suggests the gift of travel. After all, the holidays are about making memories and having fun together, and vacations are an excellent way to do just that. Some of Brooke's favorite family vacation getaways include Mexico, Napa Valley, New York City, Disneyland, and Hawaii. But even a weekend trip to a local destination is a fun gift for your family.
Thanks