Fashionable Media Review Policy: The featured product for this review was provided to me, at no cost, by the manufacturer or representing PR agency for the sole purpose of product testing. Opinions expressed are my own and are not influenced by monetary compensation.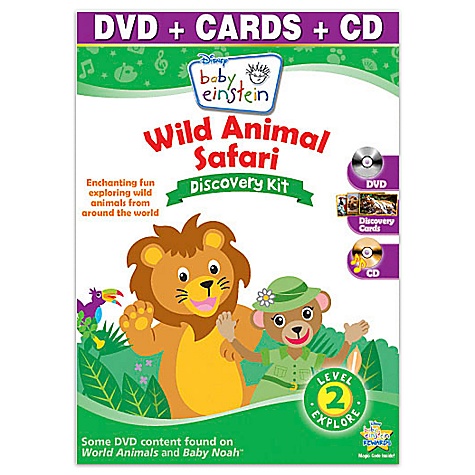 My children all liked this Baby Einstein: Wild Animal Safari Discovery Kit (DVD + CD and Discovery Cards)
. They really enjoyed watching the DVD. They love animals so liked the real animals featured in this movie. They liked the cartoon parts of the movie too. But, my older children from 8 and up thought the cartoon parts where stupid, and well, so did I. However, three of our younger ones loved the cartoon parts, guess it was on their level ;-). Even my 4 month old paid more attention to the real animal parts than the cartoon parts. This movie is perfect for a younger audience and holds their attention for the 26+ minutes that the movie plays.
They learned alot about animals that lived on the safari and loved seeing the real animals in action!
This Discovery Kit includes:
1. DVD
1. Pack of Discovery Cards
1. Music CD
My 4 month old really liked the cards he found them very interesting. We continue to use them when he is showing signs of boredom – crying while not needing a diaper change or wanting to nurse, sucking his thumb when he's already been fed – and he just stars at the cards. Speaking of which, my oldest is reading the backs of the cards about the animal facts to baby. The thing is she cannot read them while he looks at the animals because then the picture of the animal is upside down. They must have been printed backwards or something.
I would not want to sit my baby down on a regular basis and let him watch this movie. I'd rather show my child the cards and teach them myself. But I'll let my younger children watch it, as it is a great educational DVD for busy parents.
For more information or to buy the Baby Einstein: Wild Animal Safari Discovery Kit (DVD + CD and Discovery Cards)
click this link.