Fashionable Media Review Policy: The featured product for this review was provided to me, at no cost, by the manufacturer or representing PR agency for the sole purpose of product testing. Opinions expressed are my own and are not influenced by monetary compensation.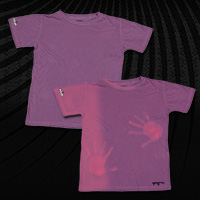 Quagmire Colorfusion shirts change colors with heat at about 68′ F. They change from UV rays, so they work best on sunny days. These shirts may be washed and dried just like any other piece of clothing.
My children really liked these shirts. The whole family thought they where pretty cool. All of us played with these shirts to see if we could make them change colors. And they did! We held sections in our hands to watch them change. We sat or laid on them and they changed colors. Since it's winter we didn't get to test these shirts outside to see what the sun does to them so we are looking forward to testing these shirts in the sun once spring arrives. These shirts washed up really nicely and they didn't shrink at all. So I was pleased with that. These days it's pretty much the norm for clothing to be pre-shrunk. The Quagamire Colorfusion shirts come in sizes 4-14, and they retail from $25-$45. They come in many colors. However, they were out of stock of all of them except orange and purple, which is what we were sent:
Wicked Orange (below) and Fusion Purple (as seen above) are $39.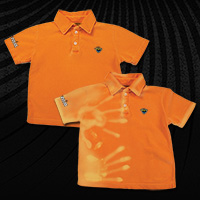 These shirts are a bit more expensive than what we would usually pay for a t-shirt, however, due to the unique technology used Colorfusion shirts would make a neat Christmas gifts for children.
For more information please visit:http://store.quagmiregolf.com/ColorFusion/Kids-c30/