Do You Know it Takes 21 Days to Break a Habit?
I am sure there are many moms out there that would love to break some habits. There are probably many more desiring to lose weight. Eating right and exercising are two of the best gifts you could give yourself or your mom this Mother's Day. Tread lightly with this delicate subject though because it is a sensitive one because habits are hard to break.
Exercise Physiologist, celebrity trainer, & best-selling author of Power Moves – Marco Borges – is the creator of 22 Days Nutrition, a new line of organic vegan bars based on the philosophy that it takes the human mind 21 days to adjust to a major life change. That is thought provoking isn't it? I have heard two weeks, three days, so I am not sure what works and what doesn't.

What's the Mindset Behind 22 Days Nutrition?
Create Lasting Change: 22 Days Nutrition is committed to providing the nutrition and the tools to help make a positive and healthy difference every day. Nature's Power: 22 Days Nutrition believes that foods made with the finest natural ingredients satisfy not only the body but also the spirit. When you eat well, you live well and the benefits go beyond the individual and can actually positively affect our environment.
What is Good About This Snack?
– Made with raw & organic superfoods
– Biologically complete hemp & rice proteins
– USDA Certified Organic
– Vegetarian/Vegan
– Gluten-free
– Heart healthy fiber
– Full of vitamins, minerals & antioxidants
– No preservations
– No artificial ingredients
– No harmful additives
– No corn syrup
– No trans fats
– No soy
– No dairy
My Thoughts
I tried all six of the 22 Days Nutrition Bars. I like all of them but the Mocha one. I am not a coffee drinker and do not like coffee flavor anything. Amazing, I know. I would really like to try this challenge just to see if it worked. This may be a goal for me in the next few weeks. Not sure if I could give up chocolate though!
The bars are .5 grams and a decent size. They are tasty and rather filling, but still are not melt-in-your-mouth chocolate. Most of them do contain tree nuts and are manufactured in a facility that also processes products containing peanuts, soy, milk, egg and or wheat (gluten). That's bad news for those with allergies.
The flavors include:Gojo Mate Firecracker, Enlightened Pumpkin Seed, Daily Mocha Mantra, Fruit Nut Karma, Cherry Chocolate Bliss, and Nut Butter Buddha Crunch. A box of 12 costs around $35.88. Kind of pricey compared to other protein snack bars I have bought and it would take two boxes to do the 22 Days Challenge…..hmmm….
Guess it would still be worth a try, eh?
Where to Buy?
– Vitamin Shoppe
– Whole Foods Market
About Marco Borges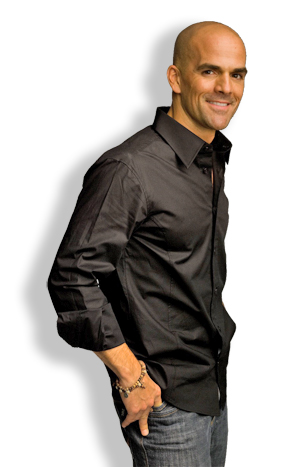 Marco Borges, world-renowned Exercise Physiologist and creator of 22 Days Nutrition, has spent the past sixteen years
teaching people how to lead healthier lives and achieve what they once thought impossible. His innovative, accessible, and highly effective approach to fitness has made him one of the most sought-after experts in the industry.
His full-body transformative health programs have been successfully applied to everyone from severely obese individuals to top professional athletes, business moguls and entertainers.
Marco writes a regular fitness column for the Miami Herald and has been featured in numerous other publications.
He has developed extremely successful group fitness programs for both adults and children. Through his passion for people and communicating a healthy lifestyle, Marco continues to fight the obesity epidemic one person at a time.
Fashionable Media Review Policy: The featured product for this review was provided to me, at no cost, by the manufacturer or representing PR agency for the sole purpose of product testing. Opinions expressed are my own and are not influenced by monetary compensation.