Summer is here in Chicago! We seem to be flip-flopping about here with weather and temperatures. We had some chilly days last week and this week we are hitting the 90's…go figure.
With the arrival of summer and the hot weather we find ourselves trying to protect our little ones' skin from the hot sun rays, after all sunburns hurt. Therefore we have been using a natural sunscreen for the past few weeks.

Goddess Garden sunscreen is made with pure minerals, zinc oxide and titanium dioxide, offering natural protection from the sun. I really love that these sunscreens are available in tubes, sprays (Have you ever tried a spray sunscreen? I mean where have I been? I didn't even know there was such a thing! It's great, but does seem to splatter anything within range of the body part you are applying it to!) and travel sunscreen packs, handy to throw into your purse, diaper or beach bag. Another bonus is Goddess Garden sunscreens do not contain synthetic chemicals or artificial ingredients of any kind. Yay! for an a chemical free product! Goddess Garden sunscreens are water resistant, which we have proven getting rained on at the farm while weeding or planting! It is pretty much non-greasy, and a little seems to go a long way. It does absorb fairly quickly, although we have been known to be "wearing" a white coating if we happened to smear it on thick. Goddess Garden sunscreen has the highest percentage of organic ingredients available in a sunscreen-over 82 percent!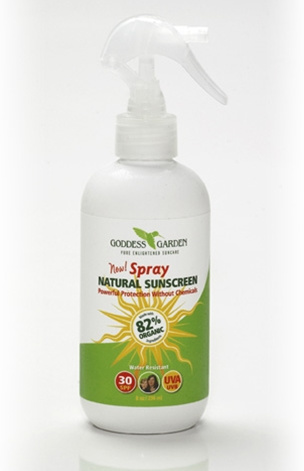 This sunscreen does have a 30 SPF and seems to need to be re-applied every couple of hours from our experience, especially this week. We found them to be an effective sunscreen, protecting everyone's skin from mom right down to baby!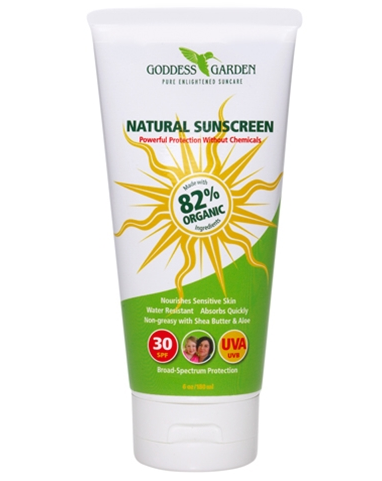 About Goddess Garden
Goddess Garden produces a premium line of natural and organic sunscreens for adults, kids and baby. Created by a mom and entrepreneur, Goddess Garden offers sheer and effective natural sun protection, free of synthetic ingredients and toxic chemicals. Our products range from $1.99 to $19.99 and are available in over 500 stores nationwide and online at www.GoddessGarden.com.