Us woman love our high heels. A pair of stilettos can lengthen the legs, and turn any woman into a statuesque beauty. But at what cost?
Plantar fasciitis, Achilles tendonitis, sprained and swollen ankles, forefoot pain, blisters, aching feet, hammertoes, corns and calluses, lower back pain, etc.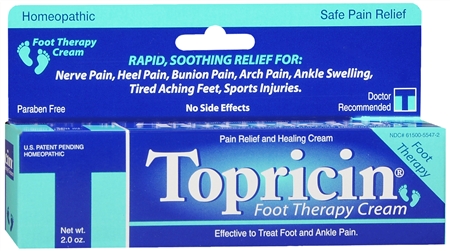 Wearing heels isn't the healthiest choice, but almost all women will never give up their heels. Thanks to Topricin Foot Therapy Cream this is one choice that fashion-forward women won't have to make while pampering their tired, aching feet.
Topricin is a medicated cream that targets ankles ankle and foot pain and contains eleven regulated homeopathic biomedicines medicines that naturally support and assist the body by helping the subcutaneous skin layers of the feet to drain toxins and excess fluids from the tissues which increases blood flow and helps heal the damage that is causing the pain.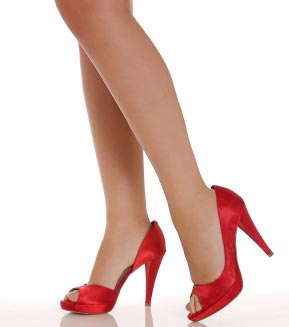 All you need to do is apply Topricin Foot Therapy Cream to your feet before strutting out in heels to help reduce pain and injury, as well as after wearing heels to relieve any burning, throbbing nerve pain in the feet. As an added plus, Topricin Foot Therapy Cream treats dry, cracked skin of the feet
Topricin is safe and natural and doesn't use any volatile oils such as camphor, menthol, petroleum or lanolin, fragrances or irritating chemicals. The cream is fast absorbing, odorless, greaseless and will not stain your clothing.
What can women do to reduce the physical dangers of wearing high heels? Here are some helpful tips:
-Always choose comfortable high-heeled shoes.

-Consider high heeled shoes with an "air bag" or very comfortable sole that protects your feet from rubbing and provides shock absorption.

-Choose to try on shoes at the end of your day, as they swell throughout the day when you stand and walk around.

-Try on both pairs of shoes, as your feet may not be identical in size and the shoes may not be identical in size as well.

-Limit your walking and standing when wearing high heels.

-Stretch tight shoes with shoe stretchers to make them more comfortable.

-Avoid running in high heels.

-Massage your legs and feet after wearing high heels.
Topricin Foot Therapy Cream is available in a convenient travel-friendly 2-ounce tube (MSRP $19.99) and is just the right size to store in a purse, bag or briefcase. The product is also available in two larger sizes: 4-ounce jar (MSRP $29.99) and 8-ounce bottle (MSRP $48.99).
Topricin is available in pharmacies, natural food stores and other fine retailers nationwide, including Whole Foods, Vitamin Shoppe, Vitamin World, Fred Meyer, Wegmans, and other retail stores throughout the U.S.