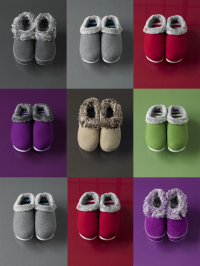 Freewaters just launched a new line of cozy, comfortable footwear! They have come out just in time for Fall. They will be releasing their new line of House Shoes that are perfect for around the house, running errands or picking up the kids from school. They're available in an assortment of fun colors and furry linings. And as an added bonus, the lining is removable and 100% washing machine-safe.
Not only will your feet be super comfy in these adorable slippers, but Freewaters will purchase of one pair of Freewaters will provide clean drinking water for one individual for an entire year! Check out this awesome way to give at – www.projectfreewaters.org.
Freewaters also has come pretty cool flip-flops and sandals as well! Check them out at www.freewaters.com.