A lot of products on the market were created by normal every day people looking to solve a problem. But sisters, Jenifer and Sarah Caplan never pictured life as young entrepreneurs, but had a problem that troubled them regularly, sore feet.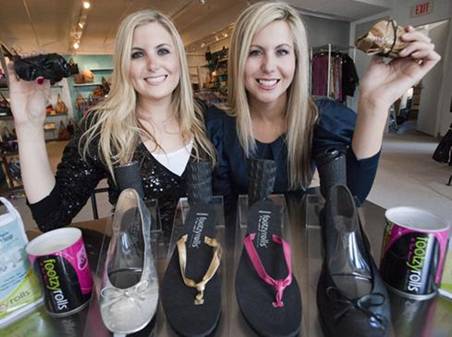 As an avid heel wearer, Sarah's nights were usually cut short due to blistered, swollen feet, not only did the problem end her fun, but her friends and boyfriend at the time as well. Carrying a large bag with her on nights out, Sarah would store a pair of flat shoes to ease the pain. This bag became such a nuisance and Sarah longed for the opportunity to carry the latest small clutches, but how would her flats ever fit into such a small bag?
That's when the idea hit her to create a rollable, foldable shoe that fits in the smallest of bags. Footzyrolls are fold-able ballet flats that fit into the smallest handbag! In less than two years the sisters have brought in over $2mm in sales and is projected by 2013 to be a $10mm company.
Since 2009, the sisters have doubled their distribution from 1,000 stores to over 2,000 stores in the USA including major retailers such as Bloomingdales, Fred Segal, HSN and Zappos.com, who will be debuting an exclusive line from the brand this season. Along with domestic distribution, Footzyrolls has a footprint internationally as well, selling to over 1,000 stores in countries! Jennifer is only 34 years old and Sarah Caplan is 28 years old. The two continue to Footzyrolls original, launching Footzyfolds, Footzysocks and Footzyflops along  with their other fashion solution oriented products. Thinking out of the box is crucial to the success of the sister's business such as partnering with major brands like Judith Leiber, SATC2 and Lexus.
Footyzrolls is a brilliant concept created on the foundation of solving a problem. Jenifer and Sarah's story proves never underestimate the underdogs. (www.footzyrolls.com)